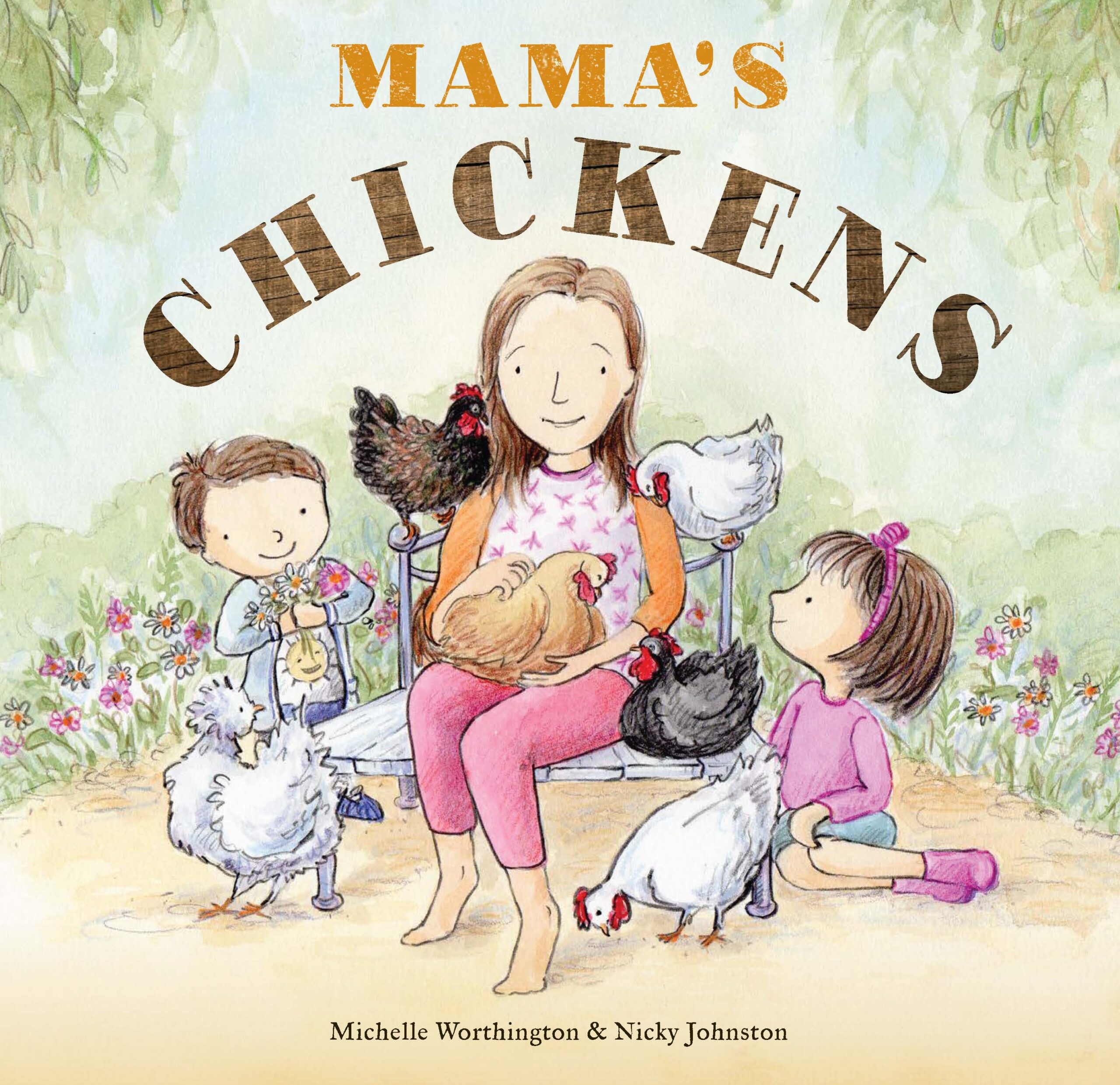 Mama's Chickens
By Michelle Worthington and Nicky Johnston
Reviewed by Margarite Igras
This picture book is written from personal experience by Australian author Michelle Worthington who was diagnosed with Progressive Non fluent Aphasia – a form of dementia, with symptoms including memory loss, difficulty thinking, mood changes, and trouble recognising people. This child friendly book on memory loss is sensitively written for young children, and beautifully and descriptively illustrated by Nicky Johnston.
The cover illustration sets the scene. A mother sitting on a backyard bench, surrounded by her two children, and some very contented chickens. It feels like one of the children is narrating this story –   Mama didn't want to get chickens. The day they arrived, she changed her mind. She loved looking at their feathers, gave them food scraps and ensured they were safely put away for the night. She also loved spending time with her children and showed them every day just how much she loved them. When Mama started to lose her memory, her love and caring nature is tested, but the chickens and children remember her kindness and love. The family take over the role of caring for the chickens and for their Mama.
Each page has limited text but together with the full-page, soft, watercolour illustrations, the story comes alive with added information, from mama's daily routine in the backyard, the joyful times she and the children spend with the chickens and the family coming together to care for Mama when she is no longer able to talk. Her love for her children is sustained during the times she is lost and confused.
The illustrations warrant further discussion from the unusual apron that Mama wears, the backyard items, and what happens When Mama started to lose her memory.
A beautiful and sensitive book about dealing with dementia written from a child's perspective.