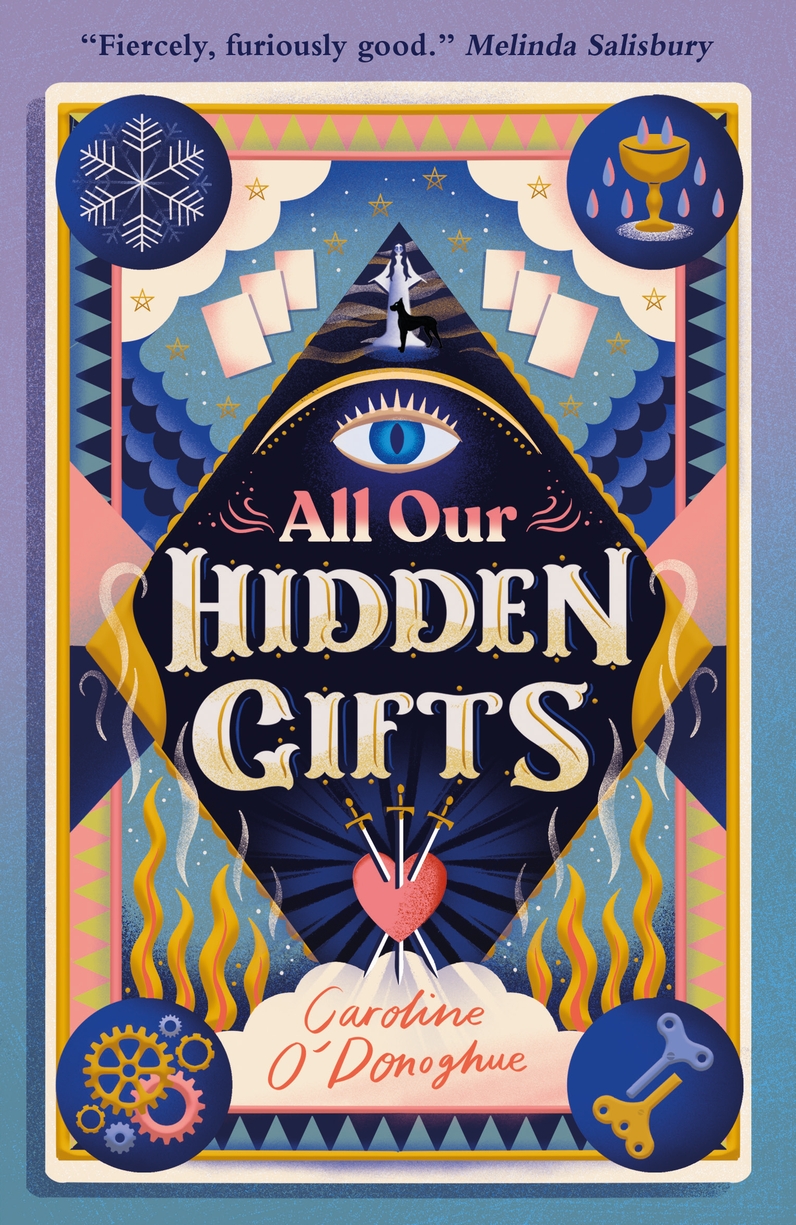 All Our Hidden Gifts
By Caroline O'Donoghue
Reviewed by Liane McDermott
All Our Hidden Gifts written by Irish-born author and journalist, Caroline O'Donoghue, is the first book in a supernatural teen drama trilogy. Having previously published two adult novels, All Our Hidden Gifts was Caroline O'Donoghue's first YA novel, followed by The Gifts That Bind Us and Every Gift a Curse.
In this first book of the series, Irish teen Maeve Chambers discovers a deck of tarot cards while cleaning out a cupboard during her school detention. Maeve discovers an uncanny knack for reading the cards, all except for one—the Housekeeper—an inexplicable card that keeps turning up out of nowhere.
Maeve's desire for popularity at school is soon realised as her reputation as a diviner spreads, and with her new friend Fiona, she establishes the profitable Chokey Card Tarot Consultancy. But when Maeve is provoked into giving her ex-best friend Lily a reading in front of their entire class, the Housekeeper mysteriously appears again. Harsh words are spoken—words that Maeve wishes she could take back.
When Maeve finds out the next day that Lily has vanished, she realises that she and the Housekeeper have played a role in Lily's disappearance. With the help of Fiona and Lily's older brother, Roe, Maeve has to uncover the mystery of the Housekeeper and harness witchcraft and her own supernatural powers to bring Lily home.
All Our Hidden Gifts is an intriguing YA novel that blurs the lines between reality and fantasy, and the normal and paranormal. With a distinctly Irish feel, the author draws on her own country's folklore of the White Lady—one of Ireland's most famous ghosts—as backstory for the Housekeeper. There are many different and layered elements to the story as the mystery of Lily's disappearance and the paranormal role of the Housekeeper are unravelled amidst increasing intolerance throughout the city, incited by a homophobic cult called the Children of Brigid. LGBTIQ+ issues are strongly represented in the novel with Maeve's sister being gay, and Maeve's love interest, Roe, as bisexual and nonbinary.
Maeve's character and voice are raw and honest as she exposes her faults and struggles with the guilt of her past actions towards Lily, and her attraction towards Lily's brother, Roe. The relationships with her family and friends are also flawed and real. I did struggle though with some aspects of the plot which at times felt a bit farfetched, leaving open too many unanswered questions that could have made the storyline more plausible, and the ending feel more resolved. Some of this may, however, be addressed in the subsequent books of the series.
All Our Hidden Gifts would be an enjoyable read for those who like teen fantasy, the paranormal and LGBTIQ+ storylines. Book Club Notes are available for the classroom

Book-Club-Notes-

 which provide some interesting discussion questions around perceptions on tarot cards and the occult, friendship dynamics, and how the novel explores gender, sexuality and the experience of LGBTIQ+ people.