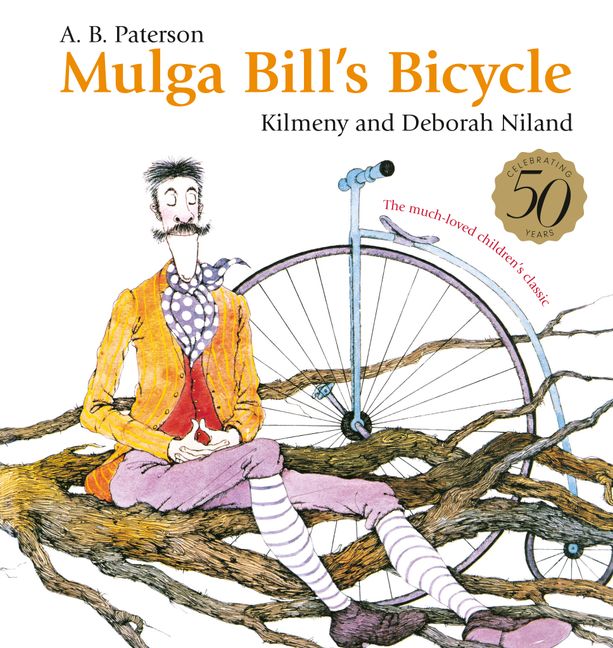 Mulga Bill's Bicycle: Poem
By A B Paterson
Illustrated by Kilmeny and Deborah Niland
Reviewed by Mia Macrossan
This  gorgeous new edition of the classic children's picture book  is celebrating 50 years in print. The Niland sisters have illustrated many children's picture books over the years and this is a cherished favourite.
Banjo Paterson wrote the poem in 1896, a time when cycling was a relatively new and popular activity. It tells the story of Mulga Bill who thinks he will have no problem riding his velocipede, you know, one of those bicycles that has a huge wheel in the front and a teensy weensy one at the back. After a hair-raising ride he crash lands in Dead Man's Creek and decides that the bicycle " it's safe at rest in Dead Man's Creek – we'll leave it lying still; A horse's back is good enough henceforth for Mulga Bill'.
The illustrations for this epic ride are hilarious, exaggerated, full of life and energy. Mulga Bill's face changes from smug satisfaction to surprise, unease, total terror to smiling realization that his horse is best for him.
It is to be hoped that this edition will discover a whole new audience for this work and for the iconic Australian A B Paterson.
A great one for the home collection.