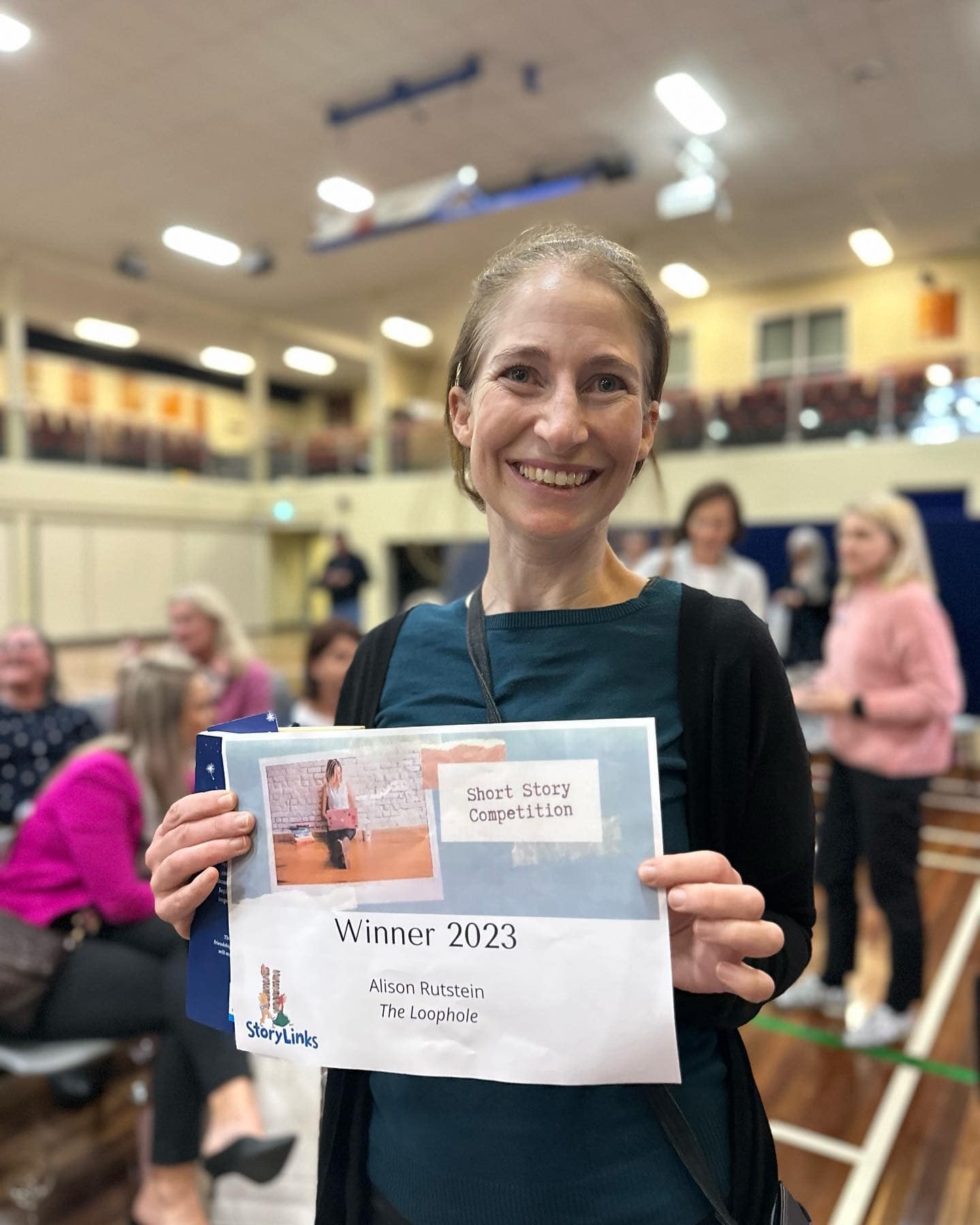 StoryLinks 2023 Short Story Competition Winner
The winner of this year's Short Story competition for writers aged 18+ was announced at the Narelle Oliver Lecture in Children's Literature given by the current Children's Laureate Gabrielle Wang.
The winning short story is The Loophole  by Alison Rutstein.
Alison very kindly agreed to be interviewed by StoryLinks
When did you first start to write?
I started writing in 2019. It was a time when I was reading a gazillion picture books a week to my younger two sons, and so thought I'd give picture book writing a try. My first attempt was a pretty terrible story about Clara the Cockroach. I was then fortunate enough to discover Write Links, joined the critique group and have never looked back.
Prior to that I had never really written anything except for a holiday diary aged 11, where I documented what I ate for each meal and what annoying things my brother had said (I found it recently). At school, I didn't particularly enjoy creative writing and I never could think of a good ending. Having children and pets has done wonders for my creativity!
Are there any writers that you particularly admire? 
There are so many! In picture books, I love Jon Klassen's brilliant, funny stories. I also adore all Philip Bunting books, which are visually stunning and so entertaining to read, In Junior Fiction, I love Anne Fine, especially her Jamie and Angus series, Also, Anna Branford's Violet Mackerel series, which are my favourite book family! Most of what I read for pleasure (and then pass on to my oldest son) is Middle Grade – there are so many amazing Australian authors I admire – Morris Gleiztman, Katrina Nannestad, Sue Whiting, Allison Rushby – they have all written books that I could devour in a single sitting (if I was allowed to).
Who was your favourite writer/s as a child?
My favourite picture book was Judith Kerr's The Tiger who Came to Tea – I still have my tatty childhood copy. As a small child I remember my dad reading and re-reading Old Peter's Russian Tales by Arthur Ransome, a wonderful book of less well-known fairy tales. When I was a bit older, I lapped up the Enid Blyton boarding school books – I loved the idea of endless midnight feasts and  lacrosse games!
Do you have a favourite genre when writing children's fiction?
I write picture books, and particularly enjoy writing humorous stories. I write both in rhyme and prose. Sometimes I start off in prose and then decide that the story will be funnier in rhyme. I also like writing narrative non-fiction, mainly about animals, as I have a background in Zoology. I think this type of picture books is a fantastic way to engage children with all kinds of non-fiction.
What are you working on right now? Where would you like to be in five years time?
At the moment I am working on a number of different picture book manuscripts. I have my first picture book coming out in December this year with Hardie Grant, and they have commissioned a sequel for next year. I have a short attention span so enjoy jumping between different books and ideas. In five years time I would love to have found homes for most of my picture book manuscripts. And it would be lovely to have an agent or lots of publisher connections to make this an easier process. I also think that as my own children get older, I would like to branch out into writing Junior Fiction as I am reading more of that genre nowadays and it seems like the next logical challenge. I'll keep writing picture books too, although I worry that my picture book ideas may dry up once my sons get older. But maybe I just need to get more pets!
Congratulations Alison and thank you for talking to Storylinks