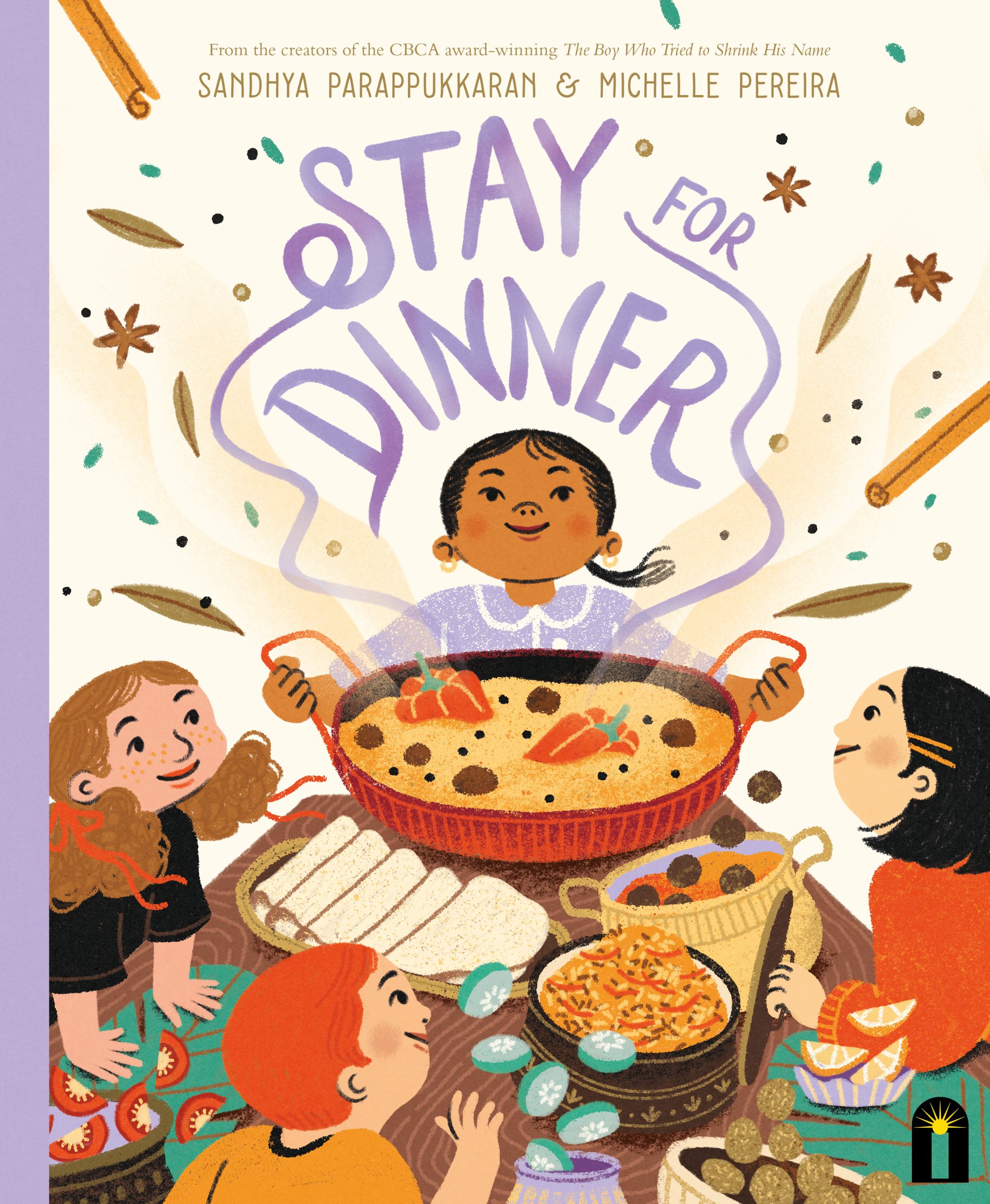 Stay for Dinner
By Sandhya Parappukkaran
Illustrated by Michelle Pereira
Reviewed by Mia Macrossan
This is the third time these two have teamed up and it is always a wining combination. You may remember The Boy Who Tried To Shrink His Name about a boy with a very long and unpronounceable name and Amma's Sari, about a girl who is self-conscious about her mother's flamboyant pink sari, both reviewed in StoryLinks.
Their latest collaboration has produced Stay for Dinner, a joyous, inclusive and exuberant celebration of the many different foods that people eat and the ways it is consumed.
The story is told from a little Indian girl's point of view. Reshma loves dinnertime with her family – squishing splashy curry through layers of rice with our right hands. On special days they eat sadhya, a traditional multi-course vegetarian meal served on banana leaves. After school she plays sport with her friends and during one busy week she has dinner at each of their places.
At Charlotte's she experiences an Australian roast dinner eating everything with a knife and fork, even the rolling around peas. At Phoebe's they use chopsticks to eat noodles and dumplings while at Leo's she learns how to twirl her fork around some flouncing spaghetti. At none of these places do people lick their fingers or burp to show their appreciation of the delicious food. When her friends are invited to her own house she's a bit concerned and suggests a barbeque or fish and chips but the family goes all out for sadhya with delightful results.
Sandhya Parappukkaran is proving adept at presenting familiar situations in a child's life which have the potential to be socially awkward. She unpicks these moments to examine underlying insecurities and then shows how friendship and love brings understanding and acceptance. Her writing is fluid and original, the story bouncing along in a way that echoes the vibrant energies of the children
She is ably supported by Michelle Pereira's glorious artwork which positively zings with life and colour. Each page is a delight for ears and eyes, an invitation to explore and enjoy the richness and variety of the food eaten by these happy families  –  without judgement.
A gorgeously produced book recommended to schools as a valuable resource for any study on food, families and other cultures.