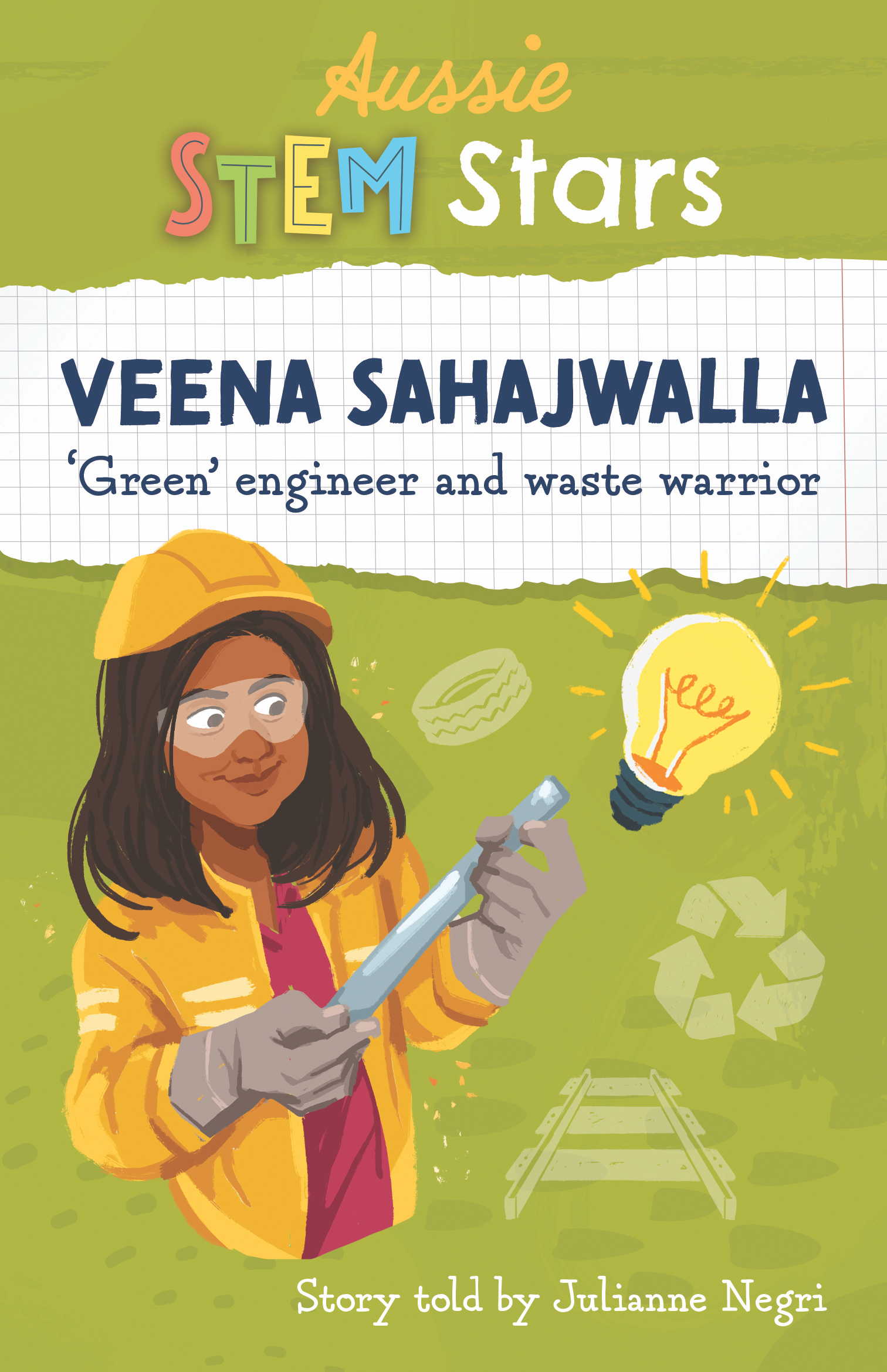 VEENA SAHAJWALLA: 'Green' engineer and recycling champion
Written by Julianne Negri
Illustrated by Mirjana Segan
The Aussie STEM Stars series is a series of highly readable biographies suitable for ages 9-13. They focus on the childhoods and careers of Australians working in the sciences, technology and engineering. One of the latest offerings is by children's librarian Julianne Negri, whose debut novel, The Secret Library of Hummingbird House, was a 2021CBCA Notable book.
In this book, Negri skilfully weaves episodes from Sahajwalla's childhood in Mumbai. Veena's first memory is of when she was three, careering around the streets on her father's Vespa. The bustling streets "created neural pathways in her mind that would forever be able to see patterns in chaos, be impatioent for things to happen fast, and see value in what others would throw away." (5)
In the upper middle class circles Veena grew up in, it was not unusual to be preoccupied with your future career from a young age. Veena loved and respected her mother immensely. She was a vastly capable woman who managed her household as well as being able to deal with any problem that walked into her paediatric clinic. Everyone expected the intelligent and curious Veena to follow in her mother's footsteps.
But Veena fainted at the sight of blood, and seemed to prefer solving problems in the physical sciences and engineering. She soon set herself the challenge of attending the most prestigious engineering university in India. Of only ten female students in her first year, she was the only one to specialise in metallurgical engineering. She was enthralled by the magic of the transformation of materials into different shapes, through the power of fire.
Veena was lonely in university, often talking to herself or a local shopkeeper because the male students were less than friendly. Eventually though, she studied with a Canadian mentor, and then travelled there to do her Master's. It was there that she met her husband, who she eventually settled down with in Sydney.
This book successfully shows that you can be a female with a big, friendly personality and a megawatt smile, and still succeed in a male-dominated profession such as engineering. Veena eventually won accolades for her scientific research into developing "green steel", using carbon from waste plastic instead of fossil fuels in the processing of steel. Veena also worked as a judge on "The New Inventors" TV show for seven years, where her warmth, intelligence, enthusiasm and smile ensured she was an audience favourite. In 2022, Veena was named NSW Australian of the Year.
The gentle black-and-white illustrations break up the text, and breakout boxes offer clarification about some aspects of the text. There is also a glossary at the back of the book. This book is interesting because it shows a family with quite an intense focus on academic achievements. It shows how they have high expectations, but are always supportive of what their daughter enjoys and is good at. For a child raised in a more laid-back family, this might be eye-opening into how hard work and curiosity can lead to a life of meaning and fulfilment.