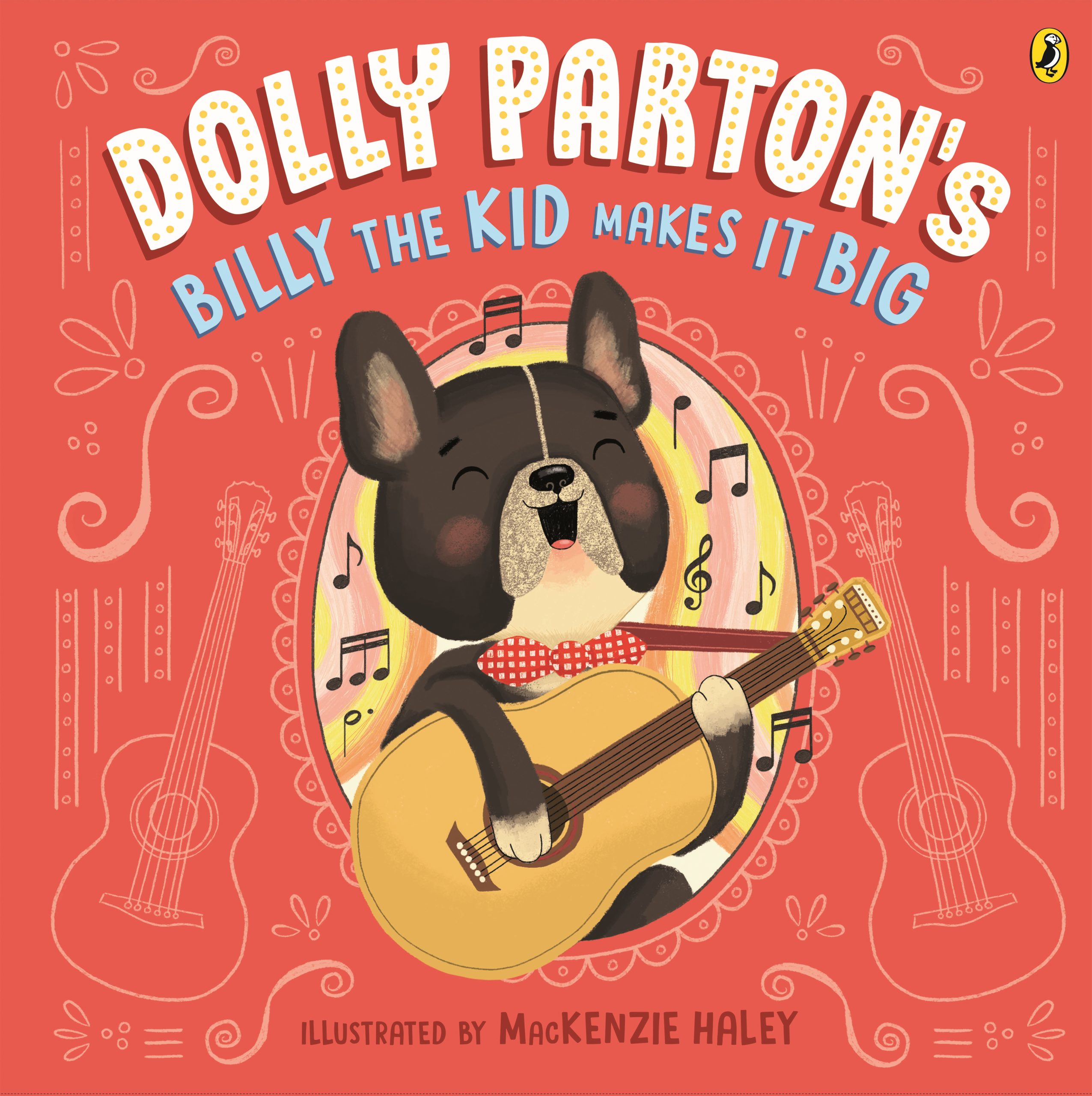 Dolly Parton's Billy the Kid Makes it Big
By Dolly Parton with Erica S Perl
Illustrated by Mackenzie Haley
Reviewed by Sandy Driessens
Legendary Dolly Parton has a passion for improving literacy and is working to do that through her organization "Imagination Library". Since it started in 1995, she has mailed out over two hundred million, free books, worldwide, to children between birth and 5 years. In 2017 she released her first Children's Songs Album "I Believe in You" and now has released her first children's book based on a song from that album, "Makin' Fun Ain't Funny".
French bulldog, Billy the Kid loves barking to the beat of country music! So, he sets out to Nashville, with his guitar, to sing his heart out. At the sign-up for Battle of the Bow-wows, Billy is ridiculed by barking bullies and being ruffed up makes him think he doesn't belong there. But singing his favourite song "Jowlene", raises his spirits especially when meets scrappy new friends who like his music.
They form a band and head off to the Battle. The bullies are there but when they "make fun" of the smallest band member, Billy regains his self-confidence and goes into protection mode. The bullies "head for the hills". The band not only wins the battle against the bullies but also the Battle of the Bow Wows and are rewarded with a performance by Billy's favourite, Dolly Parton.
Written by Dolly Parton with Erica S. Perl, Dolly's pet 'god dog' is the central character of the story and a representation of herself and her struggle with bullying. Derivations of words like ruff, pawleeese and pawsitive follow the doggy theme. Alliteration in Billy's Band mates' names …Bo, Binky and Buster and rhyming in the bullies' names …Earl, Perle and Merle make the story more musical. The lyrics of the song are on the back pages.
MacKenzie Haley, an illustrator from Kentucky, has run with this musical theme. The colours are bright and the characters are cute. There are musical symbols, instruments and references everywhere. Where a song is sung, the words and notes float in a colourful wave.
This delightful picture book, for little ones, about following your dreams, facing up to bullies (be they people or dogs) and friendship, should be shared out loud, with the accompanying song if possible.