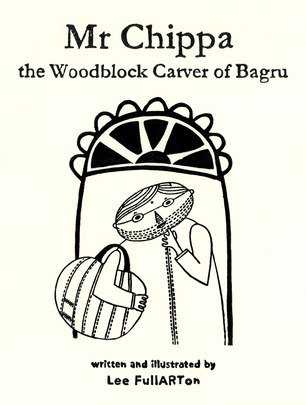 Mr Chippa The Woodblock Carver of Bagru
By Lee Fullarton
Reviewed by Mia Macrossan
In 2014 Lee, an  artist from Ipswich, lived in India and spent time working with the woodblock carvers of Bagru, a town on the outskirts of Jaipur in Rajasthan. This experience was the inspiration for her first handmade picture book, Mr Chippa the Woodblock Carver of Bagru.
The illustrations in this book were created from hand carved woodblocks made by the Khan family in Bagru. Creating a block is a demanding and labour-intensive process where the carver works with simple tools, including chisels and a wooden mallet.
The result is a charming story about a woodcarver, Mr Chippa, who is given a special task by Mr Vyas, after a friendly chat, sipping chai tea and talking about the old days. 'Mr Chippa delicately carved fanciful flowers, beautiful birds, elegant elephants and bold borders, but this time Mr Vyas wanted a special design, one that was round like moon.' 
The reader follows Mr Chippa as he draws inspiration from the world around him –  red tika dots, peacock feathers, Khejri Tree leaves, marigolds and more. 'With precision and wise hands, he carefully carved the block', until finally he has the finished product, 'one that would print the story of their unique village for all to see'.
Not surprisingly the book is filled throughout with the woodblock illustrations that tell the story of Mr Chippa and his endeavours. The cream coloured paper is the perfect backdrop for the black illustrations that have a charm and simplicity that is the result of extensive experience, control and skill.
This beautiful book is obviously a labour of love and deserves a wide audience. Children who enjoy art in particular will find it interesting and inspiring.