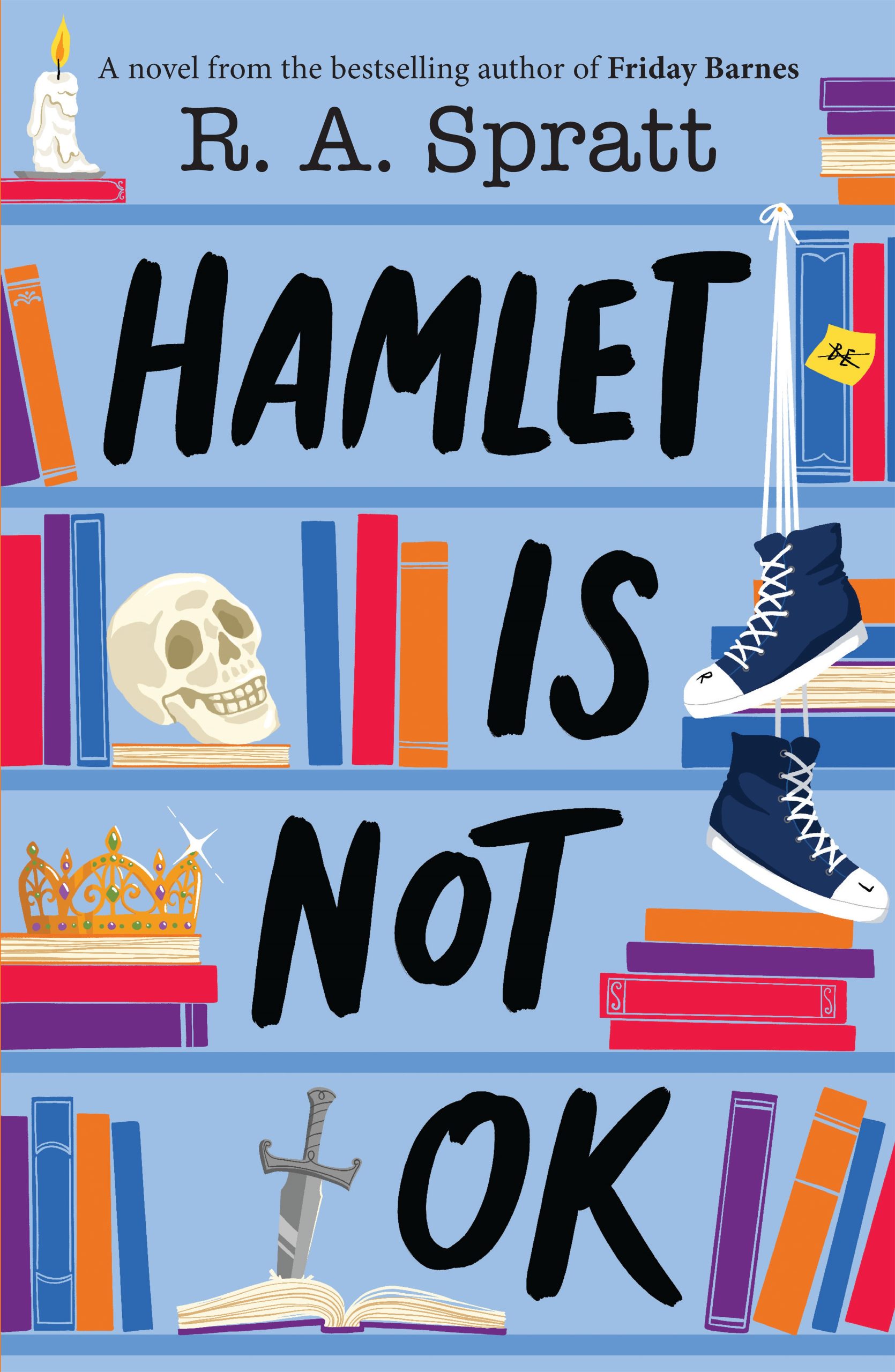 Hamlet is Not OK
By R A Spratt
Reviewed by Helen Gearing
Signing up to review a new R.A. Spratt novel is slightly terrifying when you're a long-term fan. Spratt's previous best-selling series – Peski Kids, Nanny Piggins, and Friday Barnes – and her podcast, Bedtime Stories with R. A Spratt, are firm favourites in my house. What if her leap from middle grade fiction into young adult doesn't hit the right notes?
Thankfully, Hamlet is Not OK delivers Spratt's iconic fast-paced dialogue, expert characterisations, and wry observations aplenty as we follow 15-year-old Selby and her 18-year-old tutor, Dan, through a portal into fourteenth century Denmark and the world of Shakespeare's famous play.
Selby's emotional intelligence, strong sense of right and wrong, and innate compassion helps her navigate the bewildering circumstances she and her tutor are thrown into, and helps her understand Hamlet – who is depicted as a confused, depressed, and grief-stricken young man who is behaving badly.
In her everyday life, though, Selby is a disappointment to her bibliophile parents – she hates reading, isn't good at music or sport, and is failing every subject after ignoring the concept of homework for six months. She isn't an obvious choice to save one of the most important pieces of western literature.
In an interview with Alison Tait on the Your Kid's Next Read podcast, Spratt describes the autobiographical inspiration for Selby's homework misstep. "I'm a really slow reader, and one year at high school I just stopped doing homework too. It wasn't a conscious choice to deceive anyone, it just slipped away."
Spratt doesn't waste words, and is an expert at whittling away the blurry edges of a story to reveal the golden core. Through Selby's eyes, Spratt delicately and thoughtfully opens up the famous play to readers who may feel that Shakespeare is just for people who excel at English.  
Hamlet is Not OK will be enjoyed by readers thirteen years and older, especially those who value a fast-paced story that combines humour and heart.