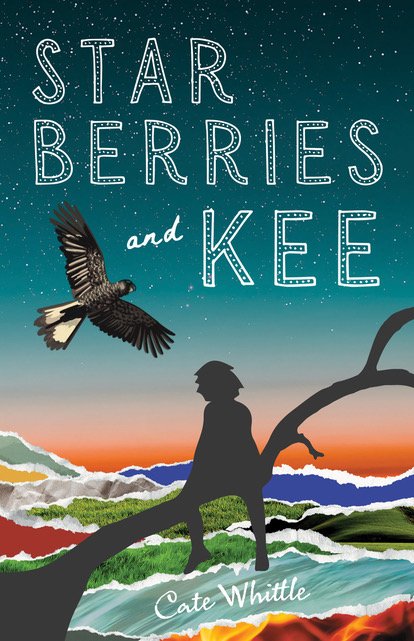 Starberries and Kee
By Cate Whittle
Reviewed by Liane McDermott
Cate Whittle writes fantasy and adventure fiction for children and young adults. Her books include the junior fiction Trouble series and novels for older readers, such as Wyrd and Emergency Rescue Angel.
In the spirit of solar punk—a subgenre of speculative fiction where technology creates a sustainable future, connecting nature and community—Starberries and Kee delivers solar punk climate fiction for middle-grade readers,  a story of optimism and hope for humanity and our planet's future.
Starberries and Kee follows the lives of two main characters: Wren, a wild child raised in the mountain by Old Man, and Hannah, a young girl raised in the city by her great-grandmother, Libby. When Old Man dies, Wren leaves his beloved mountain to find a new home and community, but hides in fear of the strange 'wombat-people' living in houses 'completely buried under grassy roofs, built into the hills like caves'.
One day, Wren meets Hannah, who also had to leave her beloved home in the city and start a new life in this unfamiliar place. Their friendship remains a secret as Hannah cares for Wren with food and provisions, and Wren teaches Hannah how to befriend and call for his wild black cockatoo, Kee. But a near disaster reveals their friendship and with it, brings a surprising twist that links Wren and Hannah forever.
While I'm always cautious about stories of climate fiction and their potential impact on children's anxiety about the future, climate change is something children are grappling with, and this was Cate Whittle's inspiration for this book: to provide a story that promises hope as an alternative to the narrative of climate change devastation and to show how people can adapt and create a community-based, sustainable world. This is what I loved most about this story—the envisioning of a world where humans live harmoniously and respectfully with our planet.
The setting is very strong in this story with the author providing great detail about what this new sustainable world looks like and how communities work together to make this possible. These scenes make for a slower-paced, yet moving story.
Children 9+ who are grappling with climate change concerns would appreciate this story with its vision of a hopeful world and optimistic future.