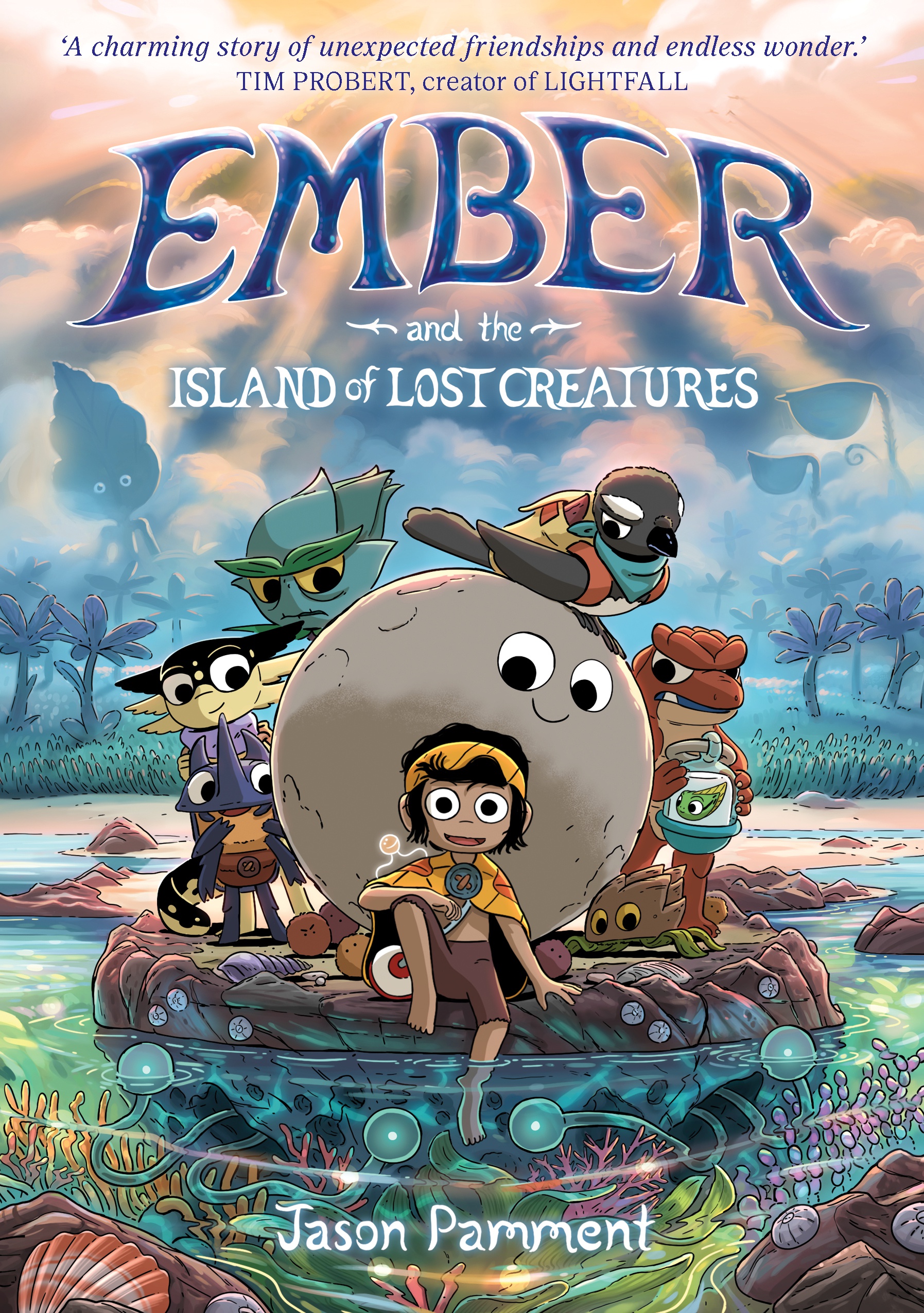 Ember and the Island of Lost Creatures
by Jason Pamment
Reviewed by Sarah Custance
Jason Pamment is an Australian graphic novelist who quickly gained attention with his first middle grade graphic novel, Treasure in the Lake. Ember and the Island of Lost Creatures is his second graphic novel aimed at a middle grade audience.
More than anything, Ember wants to fit in, go to school, make friends, live his life as normally as possible. There's just one problem… Ember is tiny, as small as a shoe, and can barely survive in the human world much less make friends. So when Ember meets Lua, a kind and maternal sea turtle who offers to take him across the ocean to a special island with a school designed for little creatures, Ember jumps at the offer!
When he arrives at his new school, Ember is filled with enthusiasm but quickly realises that it's not that easy to fit in, even when everyone is your size. Disillusioned and struggling to adapt, Ember holds on to the one thing he can control, kindness, and soon he finds himself mixed up with an intriguing mysterious monster that has its eyes set on Ember. With a bit of help from unlikely places, will Ember be able to solve the mystery and just maybe find a place where he belongs?
With so few Australian graphic novelists, it is wonderful to see the ones that we do have receiving the recognition that they deserve. Ember and the Island of Lost Creatures is a richly told and illustrated adventure fantasy that draws readers in with its wonderful cast of diverse characters, vibrant and stunning visuals, and a carefully orchestrated world that pulls you in with a kind and loveable main character.
This book is about friendship, kindness, being true to yourself, fitting in, making friends (even if they may be very different), and finding a place to belong. Hopefully we will see more of Ember and get to know the rest of the characters in a bit more depth as that was the only thing a bit lacking in the story and can easily be make up for in sequels (hint hint).
Ember and the Island of Lost Creatures should be highly placed in the reading pile of any graphic novel readers and will also make a great addition to any school library with its messages of fitting in and being yourself.