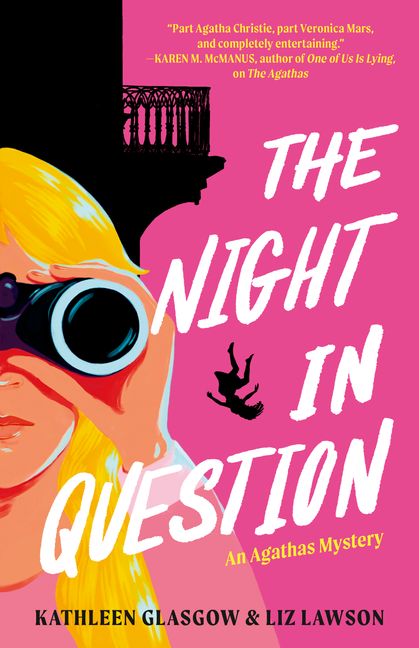 The Night In Question
By Kathleen Glasgow and Liz Lawson
Reviewed by Junior Reviewer Lucille R. Crowley, age 13
This addictive murder mystery follows Alice Ogilvie and Iris Adams as they unravel a dark web of lies that has entangled their town of Castle Cove. The story begins at the Sadie Hawkins dance held in the infamous Levy Castle, once home to starlet Mona Moody before her mysterious death…. A sudden fight breaks out between the vicious Rebecca Kennedy and Helen Park, and later Alice stumbles upon Park holding a bloodied weapon over Kennedy's bleeding body. As a suspect is caught literally red handed, the police claim it's an open and shut case. But a bit of evidence that Iris discovers at the crime scene leads her to believe that this case may be more than it seems. Perhaps this isn't the only murder to have stained the halls of Levy Castle…
Watching Alice and Iris unravel the secrets of Castle Cove made me feel  I was in the story itself. The twists and turns, the secret rooms and dazzling necklaces made it impossible to put down. It made me nervous even thinking about tearing my eyes from the page. The most suspenseful moments were when my favourite character, Alice, uncovers a truth using her Agatha Christie novels. Alice is a self-assured teenage detective whose courage made her immediately likable. But at times her boldness could come in the form of stinging remarks and her overbearingness  made her seem unsympathetic at times.
While the mystery itself was enthralling, the personal plotline regarding the characters toxic relationships with one another was equally riveting. And while most of the reveals were compelling, due to lack of exposure to certain characters some could come as a bit of a stretch. If I could, I would have changed how the personal plot line related to the mystery plot and linked them in a way that allowed the sub plot of romance and drama to unfold throughout the book rather than in random spurts.
I would recommend this book to twelve- to fourteen-year-olds. This book is 4\5 stars, and I strongly recommend it to any Agatha Christie fans.
About Lucille: My favourite author is Lynette Noni, and the first book I fell in love with was Akarnae (The Medorean Chronicles). My favourite colour is morally grey and I spend my time listening to Taylor Swift and making Pinterest boards of my favourite books.