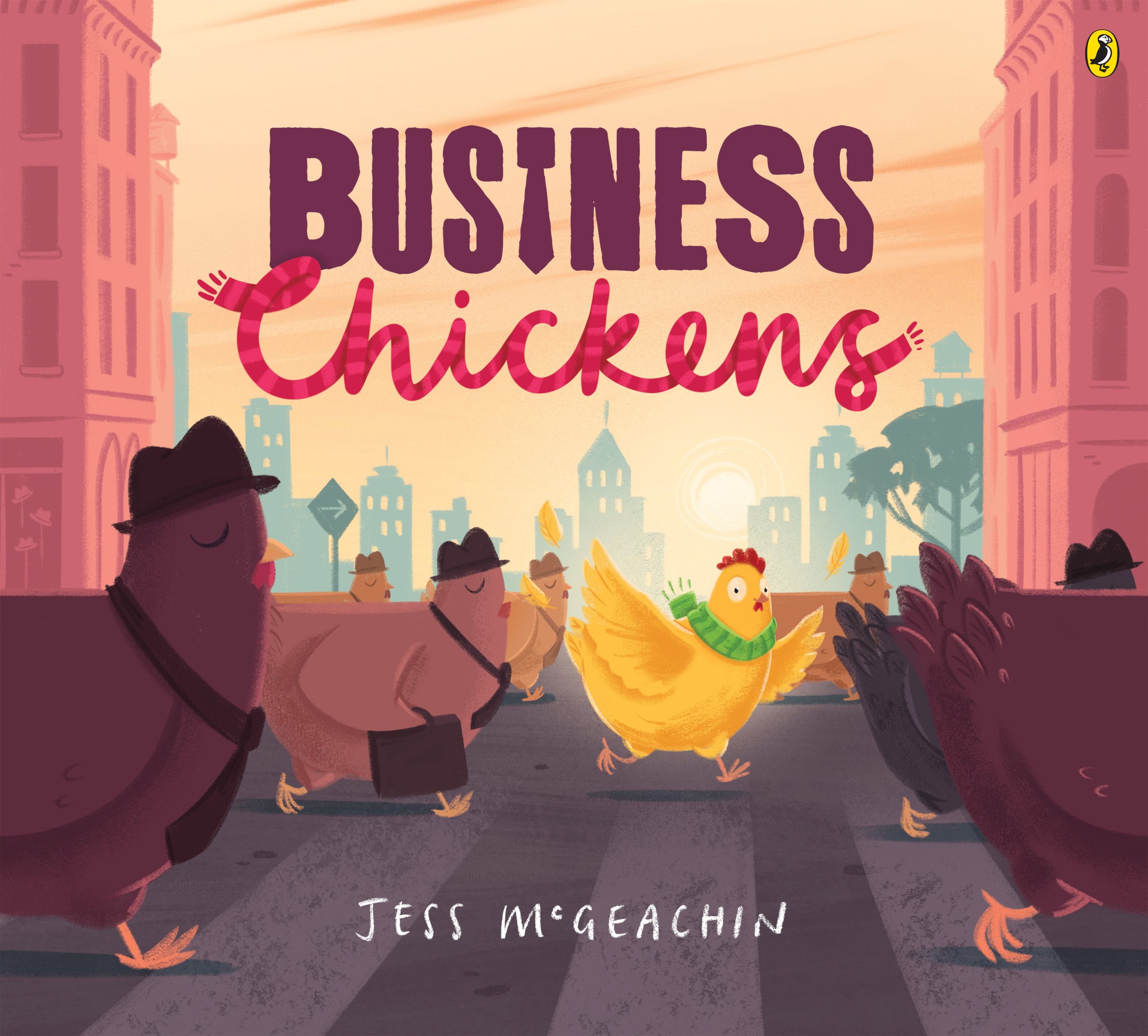 Business Chickens
Reviewed by Sandy Driessens
Most chickens make good business chickens. They're neat, arrive on time and they take everything seriously … and then there's Fran. She's none of those things. She likes bright colours, is never on time and likes to joke around. The other business chickens complained about her, and though she tried really hard to conform to the rules (which made her sad and exhausted), she was fired from the office.
Fran knew she couldn't change, but what if her special attributes could be used to create a new business … her business. She works hard, takes a risk and creates a company that is bright and funny, just like her, and as it turned out … delicious.
Melbourne-based writer/illustrator/and designer, Jess McGeachin has created a delightful story with easy-to-read short sentences. Personifying the characters' situation in the text, makes the audience relate to them. Working at Melbourne Museum and with a love of natural history, McGeachin has tapped into a world that is a metaphor our own.
The images are a clever mix of brightly-coloured single pages for our individual, Fran, and double pages with more subdued/darker for the hum drum life of the office chickens. He has captured the essence of his characters well and his attention to detail draws the reader in, to look for allusions to poultry e.g. there's quite a bit of clucking and the boss is Mr Brood.  The end papers are a charming touch and basically tell the story.
Initially, I was attracted by the humour of the title and cover. When I read it, I questioned whether it was for children or adults and then realized it's for both. It is an engaging book and I believe it's a must for families which, perhaps have a parent or parents who head off to work, every morning. Conversations can be initiated about the reason and/or necessity for "going to work" and whether the parent is a "Good Business Chicken" or a "Fran". In either case, it can be a vehicle to link work with Day Care or school. It is also a delightful way to encourage children to explore their individuality, appreciate their unique skills and enjoy "having a go" at something unexpected.