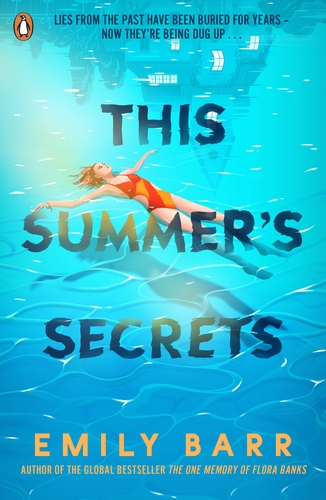 This Summers Secrets
This Summers Secrets
Review by Junior Reviewer Lucille, Year 8
A London evacuee. A poor girl with crushed dreams. A scared teenager who can see auras. This Summer's Secrets by Emily Barr follows a mystery through the eyes of four characters over the course of eighty years. Threads of a mystery buried under camelia beds and hidden in the cliffs of Cornwall surface after years secrecy.
Senara is a sixteen-year-old English girl living in Cornwall and she and her friend Josie have spent their lives staring up at the desolate mansion know as Cliff House. When an accident involving a crashed drone and a tape recording lead the friends through Cliff Houses' iron gates, Senara stumbles upon the building's only resident, Martha Roberts, sparking an unexpected friendship. Over the weeks while Josie contemplates her grim future and attempts to contact a long-lost uncle, Martha tells Senara how her family never come to visit, and how she soon plans to remedy that. A few days later Martha's great granddaughter, Clementine, and her mother, Felicity, come to stay at Cliff House after hearing that Martha has changed her will. But when Senara is tasked with looking after Martha and Clementine, the picture-perfect halls of Cliff House start to crumble, revealing long unearthed lies.
This Summer's Secrets is a story about a girl who never felt she was important finding love and secrets involving her family. So, one can imagine my confusion when there was not only one person telling this story, but four. And that it wasn't really a mystery at all, just strings of random crimes and misdeeds faintly resembling a mystery weakly woven together. What is supposed to be the important part of the plot doesn't start till halfway through the book, and by that time I was bored by the needless points of view. There wasn't any reason to have that many character povs, other than to complicate the plot.  The reader saw the crimes being committed and knew what had happened, dissolving any chance of suspense, so most of the book was just waiting and watching until the characters figured it out. Altogether, this book was a muddled jumble of characters, random and unneeded story lines, and unexplained time jumps. This murder mystery wasn't a mystery at all.
The one thing that did intrigue me was the way my favourite character, the strong-willed Josie, described the disparity between the incredibly rich Roberts family and her own destitute life. Having always had to scavenge for money, the wealth and ease of Cliff House tempted her made me contemplate the lure of luxury. If I had to change anything about this book, I would leave the characters untouched, but thoroughly edit the story.
I would recommend this to those who enjoy gothic dramas.
Two out of five stars.