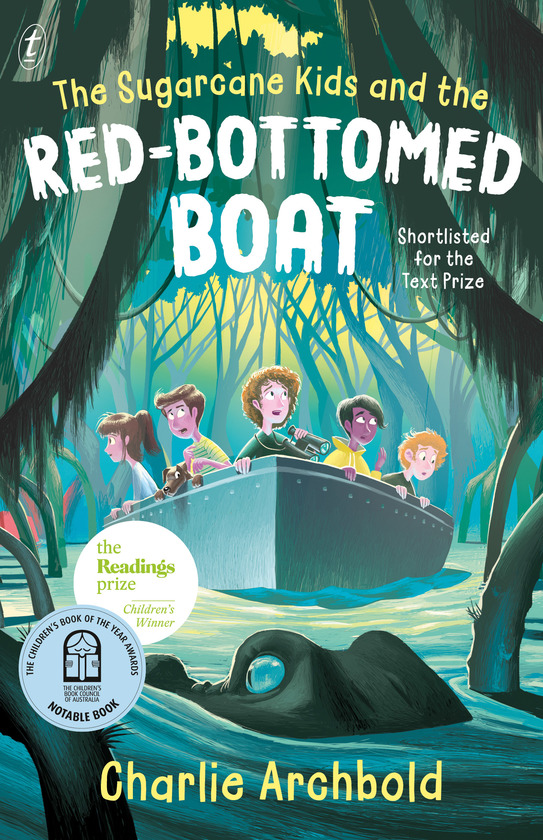 The Sugarcane Kids and the Red-Bottomed Boat
By Charlie Archbold
Reviewed by Sarah Custance

Charlie Archbold received much critical acclaim for her first book Mallee Boys which became a CBCA honour book for older readers. The Sugarcane Kids and the Red-Bottomed Boat is her first middle-grade novel and was nominated for numerous awards.
Andy and Eli are best friends, they love living in their coastal town in far north Queensland, riding their bikes, fishing, and running wild between the sugarcane fields. When Eli's older cousin Jacob is imprisoned and falsely accused of stealing, the boys know that it is up to them and their motley crew of classmates to clear Jacob's name.
With no authority figures believing in Jacob's innocence and the trial date getting perilously closer, the Sugarcane Kids (as they have dubbed themselves) must find out who is actually behind the jewellery theft and where the loot is hidden. The trail soon leads the kids to an abandoned boat, capsized deep in the mangrove swamps that is lorded over by the legendary crocodile, Sebastian. Full of sausage dogs, mega crocs, garbage filled stake outs, pirate boats, frozen turkeys, and too many close calls, will the gang be able to prove that Jacob is innocent before his trial and without getting themselves caught or eaten…
The Sugarcane Kids and the Red-Bottomed Boat is written very rhythmically and with a timeless quality. Reminiscent of Enid Blyton's adventure series (including a dog), young readers will enjoy this new mystery adventure set with a very tropical Australian backdrop, the stakes are always raised when you add crocodiles to the mix. While the book does take a moment to really draw the reader in, the setting is so well described and immersive that by the end of the book you want to stay with the characters and hear more about what becomes of them.
Throughout the book readers are introduced to some serious themes and subjects such as race and racial profiling, strained family dynamics and unsupportive stepparents, but the main theme of friendship and inclusivity easily stand out.
A refreshing yet familiar, fun read, hopefully we'll see more of The Sugarcane Kids in the years to come.