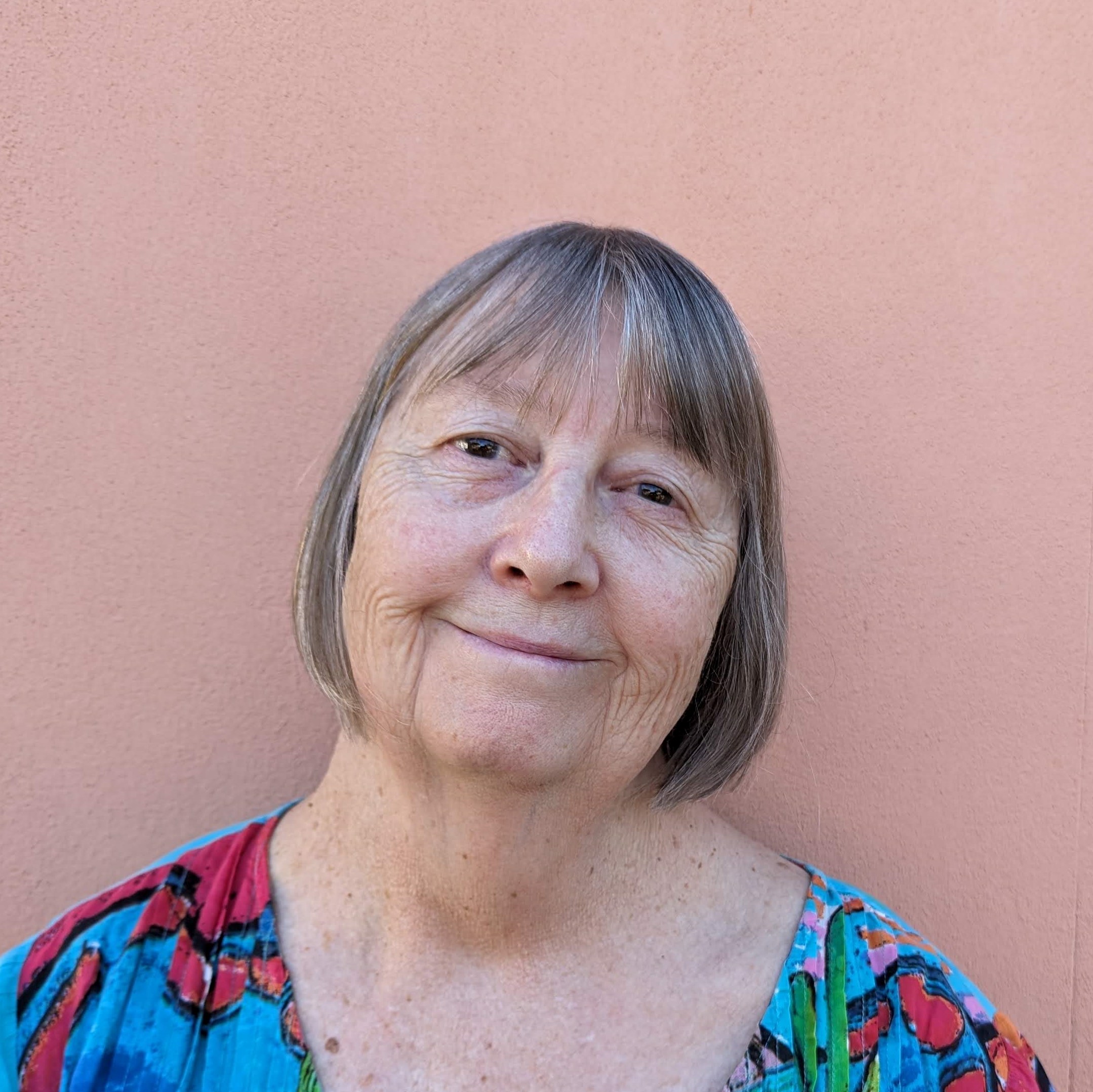 Meet Jenny Stubbs – winner of the 2023 Nan Chauncy Award
By  Mia Macrossan
Jenny Stubbs has been awarded the 2023 Nan Chauncy Award, awarded by the Children's Book Council of Australia to honour individuals who have made an outstanding contribution to the field of Australian children's literature.
Named after the noted Tasmanian author of children's books, the Nan Chauncy Award recognizes advocacy, mentoring and volunteer work beyond paid roles and professional responsibilities. The Award is presented biennially and is an opportunity to recognize an individual or partnership whose dedicated work in advocacy and promotion of literature and literacy might otherwise not be publicly celebrated.
Jenny has been active in the world of children's books for many years and made  influential contributions in her roles as a teacher-librarian for over 40 years and as a director, coordinator and member of many organisations and charities, including the CBCA (QLD branch), the Ipswich District Teacher-Librarian Network (IDTLN), Book Links QLD, ASLA and QLD School Library Association. (Full citation)
She also started the StoryArts Festival Ipswich which has been bringing authors and children together in the Ipswich region. This festival is unusual in that it is FREE to all children. Why is it important to bring children and authors and books together, and why did you make this festival free to children?
There is something  inspiring about meeting the author or illustrator of a book you already love but children often have little choice in who they get to meet. It is up to the teachers, librarians, festival directors, parents and care givers to provide opportunities for them to meet these creators, who can really inspire young people to read, borrow, buy books and develop a life-long passion for reading.  
Festivals as well as in school visits provide those opportunities. You can really feel the buzz all around when they leave a session where they have met a new author. I visited a school once the day after the StoryArts Festival ended and was greeted by the principal excitedly telling me that one of his reluctant readers was so inspired by Tristan Bancks that he bought a book. Or Nat Amoore getting a buzz when she received a message from a parent saying: Thankyou for bringing the joy of reading and storytelling back into my son's life. He used to love books and for the last 18 months he has lost all interest in anything book related. Well today I picked him up from school and he was bursting with excitement. He wanted to tell me all about you and your books. The best bit is he asked if I could buy him one of your books as he thinks you are so funny. We can't wait to read your books together.
Unfortunately, most festivals are not free for children, most schools can't afford to have an author visit their school and many schools these days don't have the knowledgeable teacher-librarians who are so passionate about connecting the children to books.  And because Ipswich is in a low socio-economic region, not only could they not afford to go to such a festival, some have difficulties even affording the bus fee to get them there. So it has been vitally important that we provide them with a free festival and sometimes even provide a free bus or two.
Each year Jenny works with a committee of talented Ipswich teacher-librarians to produce a book full of support material based on the annual Children's Book Week theme. It is sold Australia wide and the income helps to fund the festival. How important is it to have a theme for Children's Book Week and do you have a favourite theme?
The theme can really help you to focus on Children's Book Week in a school or library context. So it needs to be catchy and able to be visually represented in a creative way. There are a few that I have really loved that children have had a lot of fun with. I enjoyed Book Week, Book Feast and Book Banquet. Anything that combines food and books has got to be a winner. Book into the Future was the first one we used to create our Book Week publication so it really stands out in my mind. Hmm, another I loved was Book Safari.  So many great ones there, but there have been some pretty boring ones going back over time.  Check them out here: CBCA

theme History

. What was the theme the year you were born? 
Jenny has been the organizer of the Queensland CBCA Reader's Cup for many years. What kind of book is chosen for Reader's Cup? Name some authors and titles . What would you say are the qualities of a winning reader's cup team?
Readers Cup is run at three levels: Year 5-6, Year 7-8 and Year 9-10.  I work with the 5-6 team so that is my focus.  We look for books with a range of genres and a range of publishers.  We mostly use Australian authors. The books need to have wide appeal to the readers of that age. They aim to introduce readers to books they may not normally pick up. The first title of a series works well. If there is a local author who can be quizmaster that is a bonus.  We probably choose more literary books and avoid popular fiction that they are probably already reading. Sometimes we revisit popular titles and have used Caroline Wilkinson's Dragon keeper a couple of times, the first time at our very first competition in 2004.
The teams that work well are those that can work well together, guide themselves and not be taken over by coaches. They need to be able to read widely and not say they only read fantasy books and nothing else. The teams where all the members  read all the books are on the right track. These young readers are passionate about books and love being able to compete for their schools in something other than sport. 
Tell us a little about your own reading history: What kind of book did you read growing up? Were you a 'bookworm'? Did you grow up in a family of readers? Is there a favourite author from your childhood?
As a young child I had very few books but my mother told stories.  She could recite The Elephant's Child, a particular favourite of mine.  She also recited lots of verses and I loved Edward Lear's poems. But we didn't have many books for children because I lived in a small country town with no bookshop and no library, not even in the school. So I mostly grew up with Beatrix Potter, some golden books and when I was a bit older fairy tale books I read many times over to myself and to my sister. We had some books from the Country Extension library and my favourite was Doctor Doolittle. I also loved comics and bought them from the newsagent.  We used to swap comics amongst our school mates. I loved Phantom and superhero comics most.
When I hit high school I started to read more. I loved Treasure Island which I have recently reread and enjoyed all over again. The Thirty Nine Steps was amazing, so I then ended up reading Agatha Christie and Georgette Heyer. When I went to teachers college I was only 17 and was exposed to more classics plus children's books and my favourite was The Borrowers by Mary Norton. Many years later I saw reconstructed scenes from The Borrowers in the Oxford Story Museum.
When I started teaching it was the time when Dr Seuss and Roald Dahl were coming out and I read aloud to my classes every day. A few years later I was local relieving teacher at Mareeba State School and when there were no classes to take I was sent to the library to help out.  There I met the first Teacher-Librarian in my life, Phil Townsend who fed me books to read like The Hobbit by J R R Tolkien and I am David by Ann Holm. This set me on the path to being a Teacher-Librarian. My favourite books are middle grade readers but I also appreciate well illustrated and written picture books. 
What qualities do you look for when you are reading a children's book for pleasure?
Some authors say they think with the mind of a 12-year-old when they write and I think it's a bit like that for me when I read.  I feel that if I enjoy the book, then children aged 10 -12 will also enjoy it. It's difficult for me to say why but quality writing seems to just jump out at you.  It's so good you don't mind reading it again. It's something to do with the use of language that makes it stand out from the crowd. You get immersed in the story and don't want to stop reading. 
Do you have a favourite adult author (when you get time to read one!)
I used to read a lot more adult books, often spies and espionage style, mysteries and many historical fiction. I love books set in other places and if I am traveling, I like to read books with the same setting. After reading the Ellis Peters Brother Cadfael series I managed to visit Shrewsbury and follow in the footsteps of Brother Cadfael's on a guided walk. When I went to South Africa, I was reading one of the No1. Ladies Detective Agency by Alexander McCall Smith. Recently I enjoyed the Richard Osman books and I think I do have a preference for English authors and English settings.
Thank you Jenny, for speaking to StoryLinks. It can truly be said that you have spent your whole working life 'connecting everyone to the world of story'.

Connecting everyone to the world of story