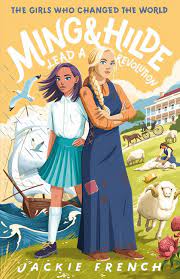 Ming and Hilde Lead a Revolution #3 The Girls Who Changed the World
By Jackie French
Reviewed by Helen Gearing
Good historical fiction helps readers answer questions they didn't know they had, and in her latest middle-grade novel, Ming and Hilde Lead a Revolution, Australian storytelling great Jackie French AM turns her attention to how the Australian fine wool industry was first developed, and its ambivalent legacy for modern Australia.
Ming and Hilde Lead a Revolution is the third in instalment in French's time-slip series 'The Girls Who Changed the World' and sees twelve-year-old Ming Qong accept another invitation from Herstory (History's sister) to witness a girl whose contribution to world events has been overlooked or censored from popular historical narratives.
Ming finds herself living Elizabeth White's life – a wealthy, sixteen-year-old with dual English and Singaporean heritage. But why Ms White is on board a ship transporting royal Saxon sheep (and a group of girls who care for them) to South Australia is a mystery.
Ming must use her excellent historical knowledge (i.e. underpants only became fashionable in the 1840s which explains why Ming isn't wearing any!) to decode what time period she is in – before anyone becomes suspicious, or before she inadvertently changes history by letting slip some technological or scientific discovery.
Jackie French does an excellent job making settings unfamiliar to the reader – a nineteenth century sailing ship, the Adelaide colony, and an enormous sheep station – feel vivid and immediate. History and animal lovers alike will enjoy the detail around caring for sheep, and will be empowered with the knowledge of how to cajole an irritated ram or recognise the symptoms of bracken poisoning.
The book includes an extended Author's Note which unpacks historical elements of the story, including the importance of the Saxon sheeps' bloodline, the effects of colonisation on Wirra Meyunna lands and peoples, and the vulnerability of the Southern Hairy-Nosed Wombats. For me, a highlight was learning about Australia's censorship of historical achievements by German migrants as part of the anti-German campaigns during World War I.
Ming and Hilde Lead a Revolution is a solid, if somewhat slower-paced, addition to The Girls Who Changed the World series and will be enjoyed by readers ten years and older who loved the preceding books and other Jackie French titles.
Harper Collins AU 2023