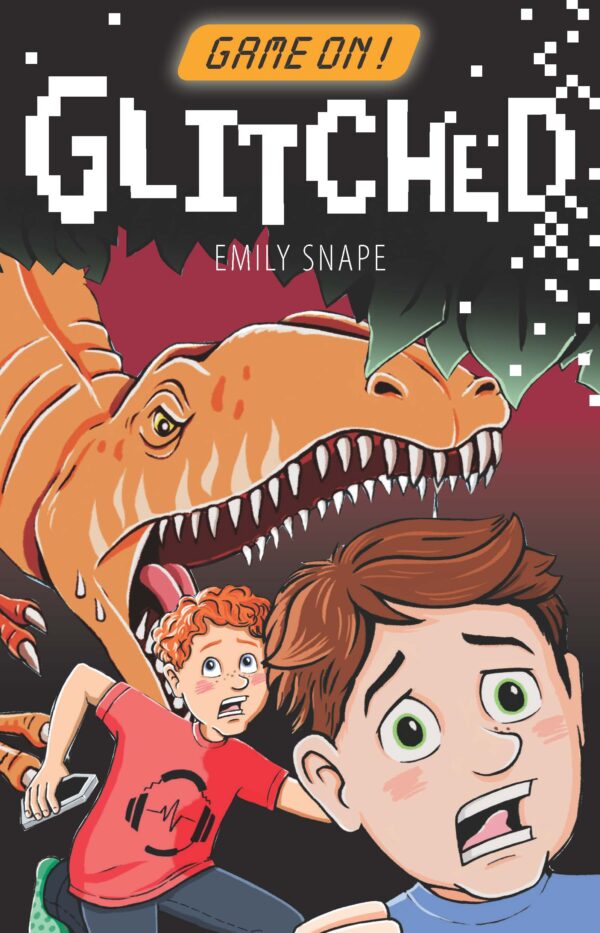 Game On! 2: Glitched
Written and illustrated by Emily Snape
Reviewed by Annaleise Byrd
Emily Snape is a London-based author and illustrator whose many previous titles include the Motor Mix series, The Little Monster's Guide to Positivity and Fergus the Furball.
Glitched is the second book in the Game On! series. This series is perfectly pitched for younger middle grade readers who like occasional black and white illustrations and fast-paced storylines crafted with modern gaming-mad kids in mind. In other words, my own children – seven- and ten-year-old boys – were the ideal audience and thoroughly enjoyed these books as bedtime read-alouds!
In the first book, Shrinkle, narrator Max and his impulsive younger brother Liam accidentally shrink themselves via an app on their eccentric babysitter's phone. (To give you an idea of this series' appeal to its target market: the babysitter is called Miss McBoob.) To avoid being stuck tiny forever, the boys must solve riddles and find certain objects around the house before the phone battery goes flat. They end the adventure with a newfound appreciation for each other.
Glitched follows the same format, except this time the boys are transported into various historical periods: the Stone Age, Roman times, Middle Ages and Early Cretaceous era. Again, they need to solve riddles (which are simple enough that my boys could figure them out after thinking them through) and find the corresponding items. Between the engaging illustrations – a jousting match, a dinosaur chase, etc – and the frequent use of bold font, capitalisation and bullet points, there's plenty to keep developing readers turning the book's 216 pages.
Deeper issues are also gently explored in this series. In Glitched, these include Max's arguments with his mother and his thoughts on her new romantic interest. These more introspective moments are a nice change of pace in the near-non-stop action but are never heavy-handed or didactic.
The Game On! series meets a need in the market for books that appeal to kids who love gaming and puzzles – especially those who are not yet willing to pick up a prose-only novel. I look forward to seeing more in this series.
Annaleise Byrd is the author of Losing the Plot, to be published in March 2024.