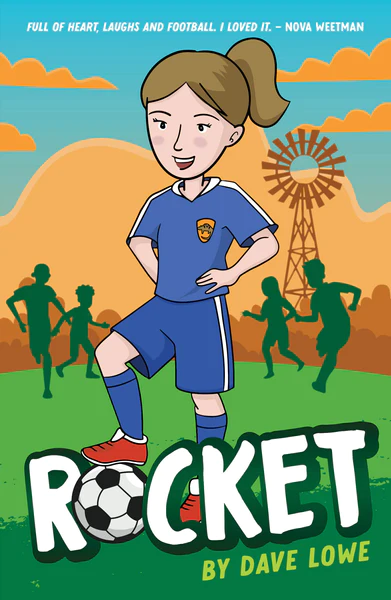 Rocket
Written by Dave Lowe
Reviewed by Annaleise Byrd
Dave Lowe is a British-born, Brisbane-based author whose previous works include the My Hamster Is a Genius series, The Incredible Dadventure series, the 'Cafe' episode of Bluey, and several plays and musicals performed at the Brisbane Arts Theatre. He is also a keen soccer player, coach and fan, which explains his connection to the topic of his latest middle grade title, Rocket, launched during the recent FIFA Women's World Cup.
Rocket is the story of twelve-year-old Maddie, who moves to an unnamed Central-West Queensland town with her dad. Maddie is devastated to leave Brisbane and her beloved Bulldogs soccer team, thus – she thinks – destroying her dream of someday playing for the Matildas. Especially since her new district only has four teams and one other female player, and the team she joins – the Numbats – has never won a game. But the team might just win Maddie over, one game at a time.
There is a growing call for shorter, pacier middle grade books as an alternative to the many hefty tomes currently being published for this readership, and Rocket fits the bill. Its 178 pages include tween-friendly themes such as being the new kid, sticking up for your mates and dealing with embarrassing parents. The heartwarming father-daughter relationship at the centre of the story is also accompanied by a gentle exploration of grief in relation to the death of Maddie's mother some years earlier.
With plenty of play-by-play soccer match scenes, Rocket is perfectly pitched for sport-loving middle grade readers… but the likeable characters, small-town setting and Lowe's signature humour kept this non-sporty reader (who once lived in Central-West Queensland herself) turning the pages too!
Annaleise Byrd is the author of Losing the Plot, to be published in March 2024.