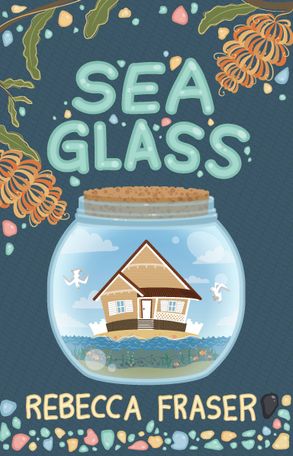 Sea Glass
By Rebecca Fraser
Reviewed by Sarah Custance

Rebecca Fraser is a Melbourne based author and editor who has written three middle-grade novels, a speculative short story collection, as well as over sixty poems, articles, and short stories. Her latest middle-grade novel Sea Glass is all about bridging generational gaps and finding common ground in the least expected places.
11-year-old Cailin feels like she has lost the holiday lottery when she has to give up her normal Christmas break plans to spend 4 weeks at a sleepy coastal cove with a grandfather that she hasn't seen in 9 years. Things just keep getting worse when they arrive and find out that the house is a jumbled shack on a cliff, her room is tiny, there is no WiFi, the TV is so ancient that it barely works, and worst of all, she left her cricket bat back home.
Pushing through her resentment and anger, Cailin finds a spark of connection with her quirky grandfather over his treasured collection of sea glass. As they walk the shores of Whitefoam Cove on their daily search for sea glass, the two slowly begin to build up a relationship  further enhanced as they talk about Cailin's father who passed away when she was young. Just as it seems her holiday has taken a turn for the better; an incident occurs that may break their family apart. Now it is up to Cailin to fix what is broken and show that new legacies and traditions can bring people together.
Sea Glass is a calm yet captivating book about reconnecting with family, how grief and loss affects people, the importance of keeping memories and traditions alive for the next generation, and owning up to your mistakes and prejudices. This is a deceptively complex book with strong themes hidden in quiet and unadorned writing, making it a joy to read.
This gentle book will make sure that you always keep an eye out for sea glass in the sand and waves.