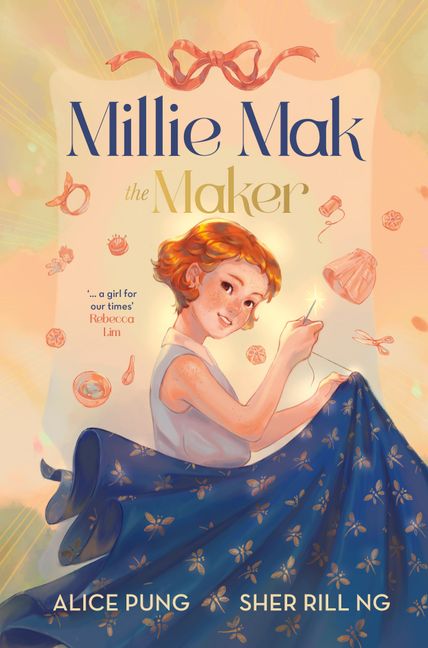 Millie Mak the Maker
by Alice Pung and Sher Rill Ng
Reviewed by Charlotte Barkla
Millie Mak is a creative and industrious nine-year-old who turns everyday objects into something new. Through her ingenuity, she navigates difficult friendships, family relationships and school. Millie Mak the Maker is another touching tale by the award-winning author-illustrator duo, Alice Pung and Sher Rill Ng. The pair previously collaborated on Be Careful, Xiao Xin, a CBCA 2023 Notable that was also shortlisted for the ABIA and Australian Book Designer Awards.
The giftable hardback features two separate stories: Gelati Party and Rita the Brave. In Gelati Party, Millie spends her holidays at the local community centre, renovates an old doll's house and deals with a school bully. In the second, she gets to know a new classmate, and the pair use their sewing skills to raise money at the school fete.
The book has family front and centre. Millie lives with her parents, her two year-old sister, Rosie and her paternal grandmother, Ahma. Her maternal grandparents live close by, too, and Millie and her sister often spend time with their grandparents. I liked that the family was close knit, yet not so perfect that they didn't have their share of problems. The grandmothers in particular – one Chinese, one Scottish – don't always see eye to eye…
The book is partially illustrated, featuring both full-page black and white illustrations and vignettes dotted throughout. The sweet illustrations, combined with a hardcover highlighted with gold leaf make it a collectible book that readers are bound to treasure.
My favourite part of the book is the practical sewing activities at the end of each story, where readers learn how to hand sew simple items. It inspired me to unpack my sewing machine over the last school holidays, and work through some activities with my kids. My son practiced sewing shapes on scrap fabric, and my daughter made a tote bag. Ambitiously, I then decided to sew a dress for myself. (One which, despite the packet claiming 'Easy-to-Sew', has involved considerable hours of unpicking. But that's another story.)
I also enjoyed the theme of sustainability throughout. Millie's sewing projects often use recycled fabrics, and there are references to resourcefulness throughout, such as sewing sleeve protectors for Rosie to save on washing and rewashing disposable plates, rather than simply recycling them.
Sweet stories of friendship, family and creating, this collectible hardback is sure to be enjoyed by young readers who love making, and making a difference.
Charlotte Barkla is the author of All Bodies Are Good Bodies, From My Head to my Toes, I Say What Goes, and the Edie's Experiments series.