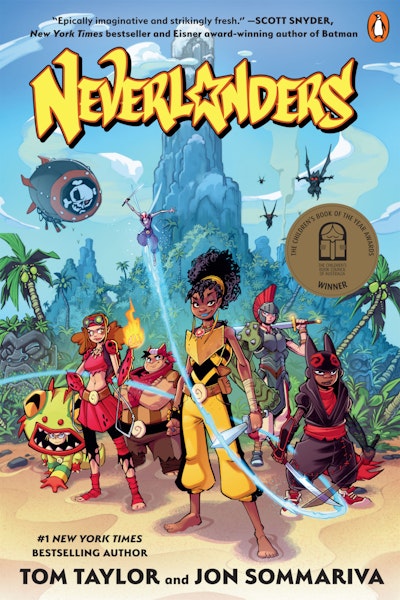 Neverlanders
By Tom Taylor and Jon Sommariva
Reviewed by Sarah Custance

Tom Taylor and Jon Sommariva are both well-known powerhouses in the Australian comic/graphic novel scenes. Together they wrote and illustrated Neverlanders, a powerful, vibrant YA graphic novel that has made history by becoming the first graphic novel to win the CBCA Older Readers Book of the Year Award. Neverlanders is affirming what readers, librarians, and booksellers have known for years – that graphic novels hold equal value to the more 'traditional' books. Neverlanders is the first in a new action-packed adventure series that is off to an incredible start.
Teenager Bee is the strong-willed, protective leader of a group of her fellow abandoned kids and teenagers who are using their skills and trickery trying to survive. When a stranger saves her life, he is invited to join the group of misfits, but newcomer Paco reveals that he is actually a Lost Boy from Neverland and invites them to come back to Neverland with the promise of a forever home for them all. When the group arrives, they quickly realise that Neverland is not what it used to be. It has become a war zone, constantly under attack by pirates whose ruthless leader holds a longstanding grudge against the magical land and wants its life giving powers for himself.
PeterPan is gone, and Paco (the last Lost Boy) had traveled to earth with Tinker Bell in order to find new comrades to help protect the Island, its inhabitants, and all of its magic. Using their street-smart skills mixed with magic and personality, the runaways are now the only hope Neverland has. The group will need faith in themselves, trust in each other, and a LOT of pixie dust in order to survive this fight and keep their new home.
Part origin story, part nostalgic memories, part new generation revamp, this is Neverland like you have never seen it before! Revisit faeries (with much more 'swearing' than you may have expected), mermaids, sneaky detached shadows, pirates, and the Lost Boys (with some much-needed positive diversity and inclusion). As the group struggles to find their own individual place in this crazy adventure, they learn  that a family you make is just as real as one you were born into. Filled with pirate battles, inner group turmoil, harsh truths  and a couple of surprising twists to a tale we all thought we knew so well, Neverlanders  keeps the reader enthralled at every turn.