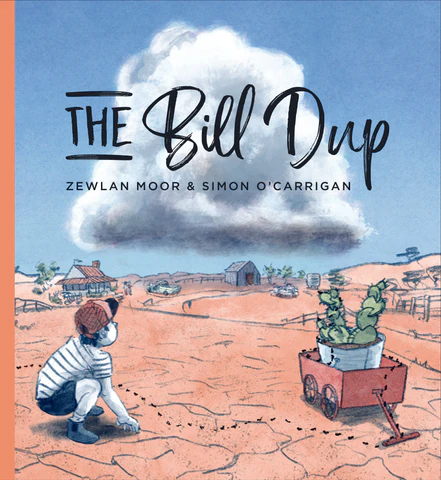 The Bill Dup 
By Zewlan Moor and Simon O'Carrigan
Reviewed by Lara Cain Gray
The Bill Dup is the second picture book release for author Zewlan Moor and one of many for illustrator Simon O'Carrigan, who specialises in Australian landscapes and built environments. Both have lived experience of drought-prone rural Australia, where keeping an eye out for signs of rain is a way of life. This book is told from the point of view of a young boy who has never seen rain, and doesn't recognise the all important 'build up' to a long awaited storm. As the ants start marching and the clouds grow darker, it looks like Mum is making a wish. "Huh? What is even happening today?" he wonders.
The Bill Dup is a quiet book that gently carries the reader along with the character's exploration of changes in his environment. The colours of the landscape darken, the air feels heavier, there's a rusty smell, and there are some scary noises from the sky! Mum and Dad are rushing around moving the ute and pulling in the washing. The boy wants to hide inside. As a reader, it's delightful to consider what all these very normal activities might look like when experienced for the first time. Those who know what the 'bill dup' feels like may have a visceral response to the sensory language and spare colour palette. Finally, when Mum and Dad begin dancing in the rain, the little boy realises that this is not a scary dance – it's a 'nice-to-meet-you' dance. Now only the ants are hiding in the house!
Alongside the central narrative, this book is about the young character's comprehension of the adult world more broadly, including expressing his miscomprehension of grown-up words – from Bill Dup to Verandah Yawning and Corrigator Dine. This aspect may work best in shared reading to help explain the unusual language, and may be most enjoyable for adult readers. The Bill Dup will be a good conversation starter for discussions about environmental pressures in different parts of the country and could be extended by taking young readers outside to consider the weather.
Lara Cain Gray's book A Grown Up's Guide To Picture Books is being published soon