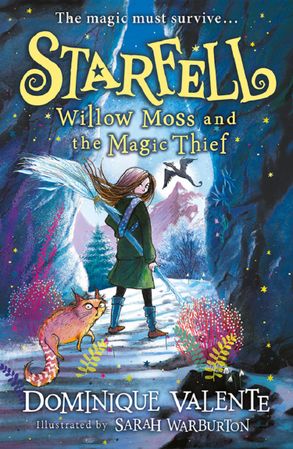 Starfell: Willow Moss and the Magic Thief
By Dominique Valente
Illustrated by Sarah Warburton
Reviewed by Sarah Custance

 Willow Moss and the Magic Thief is the 4th and newest installment of these fun, magical, adventurous middle-grade books in the Starfell series, with the talented Sarah Warburton returning to add delightful illustrations throughout the novel.
13-year-old Willow Moss has lost her magic. While it might not have been the flashiest or most impressive magic, it was hers, and now that it's gone a piece of her is also missing. But Willow doesn't have the time to lament her lost magic for long as one man's plot to take everyone's magic for himself is putting  Starfell in danger. Not only are the magical people groups in trouble, the essence of Starfell is dying, the sky, trees, and even the land itself can feel the effects of magic being stripped away.
When Willow comes upon a notebook entry from her late Granny Flossy that tells of a powerful creature known as the Craegun that restores what is lost, Willow and her friends gather on a journey to find the creature and restore Willow's magic. In order to save Starfell, Willow must rely on her friends, her colourful companion Oswin, and most of all, herself.
As we once again dive into the magical world of Starfell with Willow and the odd and wonderful Oswin (the last of the great Kobolds who is definitely NOT A CAT), readers meet old friends, new friends and vast new lands. We follow Willow through her journey of self-acceptance as she struggles with the knowledge and guilt that her choices have inadvertently led to Starfell's latest dilemma. Willow Moss and the Magic Thief has an overarching theme of self-acceptance, love, and not taking the little things that make up who you are for granted, which is unfortunately a little dulled though, due to how often and very bluntly these messages are continuously repeated throughout the book.
Overall, Starfell: Willow Moss and the Magic Thief is equally as engaging and heartwarming as the rest of the series, especially with the charming illustrations by Sarah Warburton that add an extra layer of warmth and depth (especially wonderful to see so much of our favourite Kobold). As old characters appear so prominently throughout the book with little to no background information given, this is a book that should be read only in series order and not on its own.