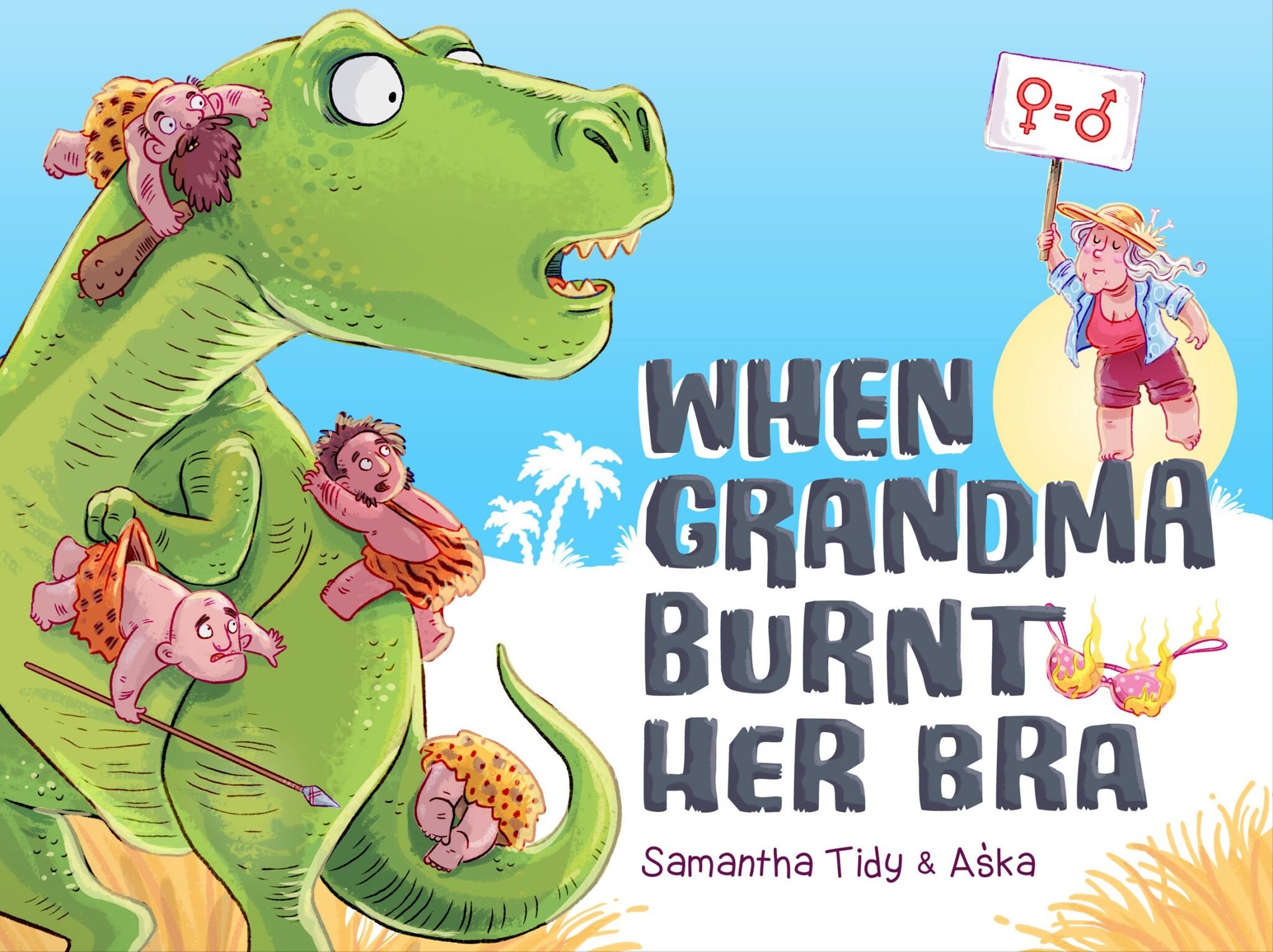 When Grandma Burnt Her Bra
By Samantha Tidy & Aśka
Reviewed by Margarite Igras
Australian author Samantha Tidy tries to shine a light on the history of feminism and women's rights, with this humorous yet passionate book for our younger readers. Together with Aśka's informative and active illustrations, the eye-catching title, and all the dinosaurs that inhabit the pages, this picture book aims to please both boys and girls.
Maggie is captivated when she learns that her Grandma, in her younger days, set fire to her bra.  She was protesting the 'Barbaric!', 'Scandalous!' and 'Outrageous!' way women continued to be treated as less important than men.  Soon Maggie is taken beyond the BBQ her dad is preparing in their backyard and instead, whilst her Grandma continues with her story, Maggie imagines sepia photos of women protesting, of cavemen limiting a woman's role to cooking cleaning and child rearing, and those dangerous dinosaurs lurking near the cave and even appearing in their backyard.
Aśka's illustrations  cleverly show the present, with Maggie listening and being outraged by her Grandma's stories and a world of old ideas equated to dinosaurs and cavemen. The digitally created illustrations fill all the 32 pages with colourful comic characters that energetically and playfully bolster the storyline with details that will easily lead to further discussion.  And don't miss the end pages. They shine a light on cave people working together regardless of gender and could also engage the reader.
The message carried in this book is the onward fight for gender equality. What is not clear to me is the inclusion of dinosaurs and cave people to represent old thinking when in our earth history they were not around at the same time. Will our younger reader be so discerning as to notice these conflicting time metaphors?