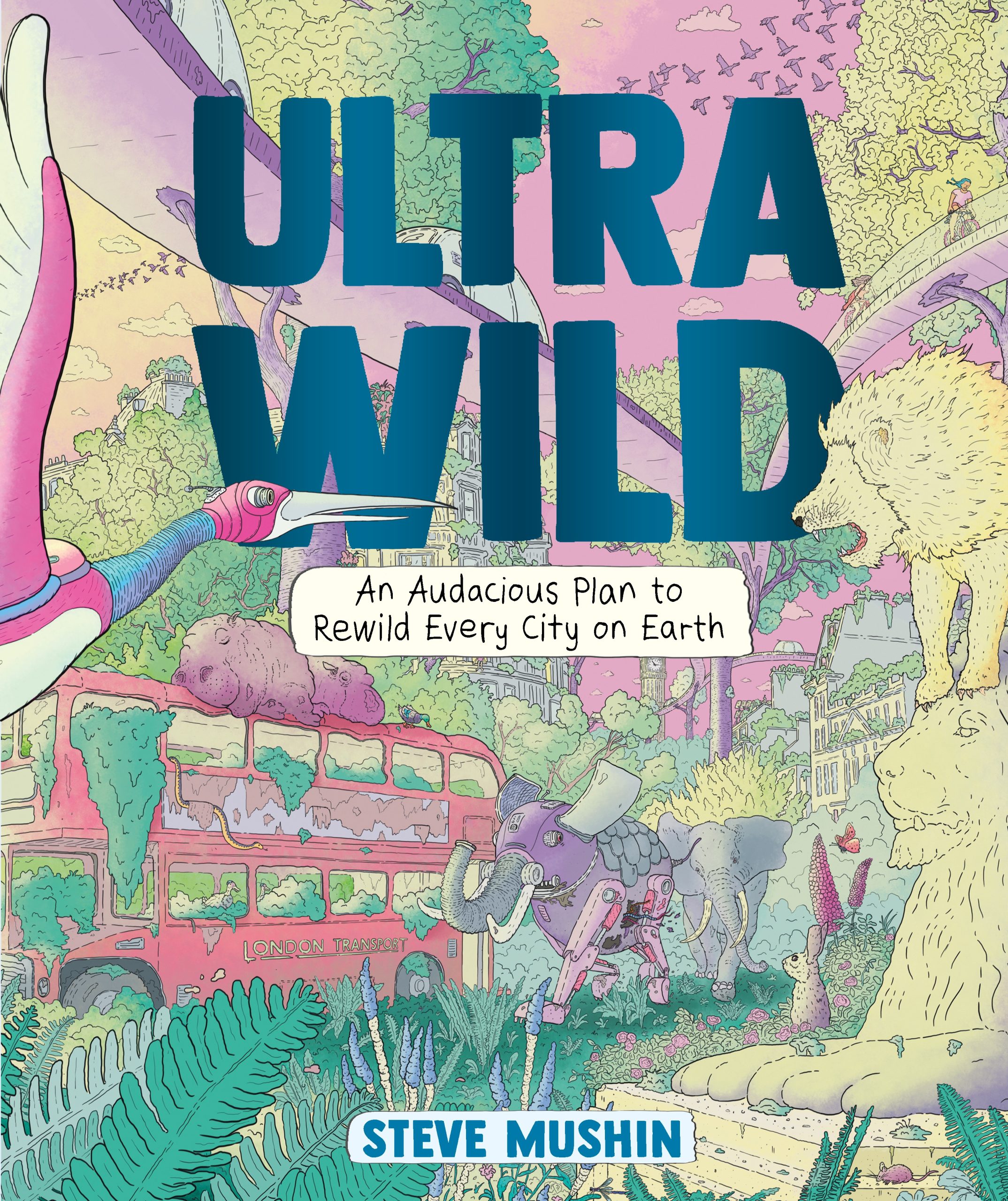 Ultrawild
An Audacious Plan for Rewilding Every City on Earth
By Steve Mushin
Reviewed by Lara Cain Gray
The word 'audacious' is used frequently in the promotions for Steve Mushin's Ultrawild, and I can't think of a better description. This book is big, bold, complicated and hugely ambitious – creatively and conceptually. It is an imaginative exploration of the 'rewilding' movement, which seeks to reverse some of the damage caused by our urban sprawl and built environment through reintroducing flora and fauna. Mushin is an industrial designer, inventor and science communicator who creates books, exhibitions and workshops about the collision between machines and the natural world.
So, here is his thesis: Could we crush climate change by transforming every city on earth into a jungle? Each chapter then proposes a sky's-the-limit invention that might help make this a reality. There are mega fauna emulators, toilet canons, 3D-printed robot birds and a chicken castle. Each invention is completely outlandish, but the science underpinning each is logical, and explained in detail throughout.  You'll find discussion of solar energy, the physics of seed scattering trajectories, the possibility for 3D printing sustainable materials and much, MUCH more. In fact, so much more that it will likely overwhelm some young readers – while others will carry this book with them and dip in and out for years to come.
The comic-inspired illustration style is right on trend and visually astounding, but very busy. It rewards a long, slow read to absorb the complexity of detail on each spread.
This book is pitched at upper primary and beyond, but could be enjoyed by younger readers with support. It will find a home in schools or community spaces invested in sustainability, and anywhere that STEM programs are prevalent. While the inventions here are too epic for the classroom, cut down versions could be deployed to explore the theories. The authorstrator's website is progressively adding printables and science guides to complement the book.
Lara Cain Gray

's book A Grown Up's Guide To Picture Books is being published soon