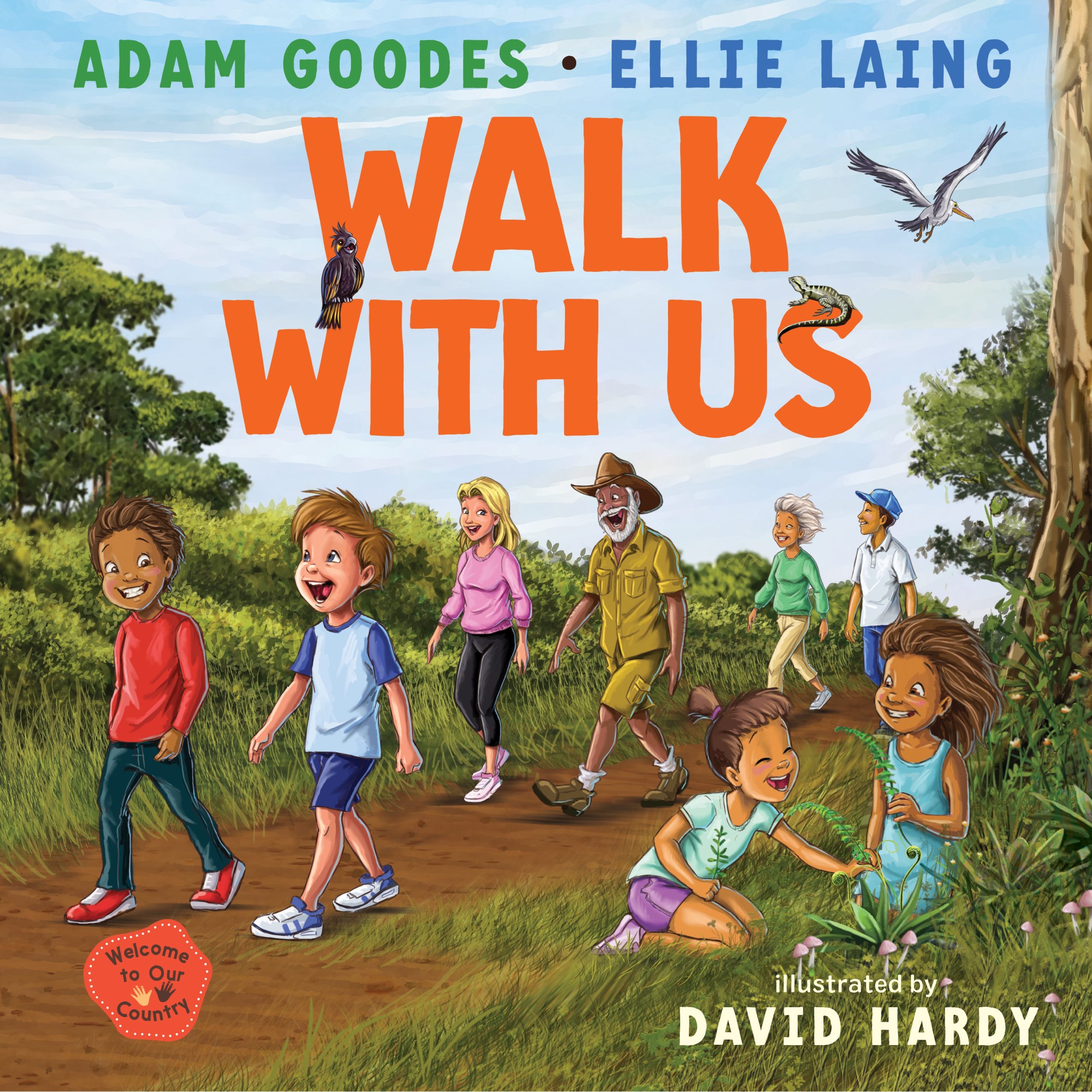 Walk With Us: Welcome to Our Country
By Adam Goodes, Ellie Laing & David Hardy
Reviewed by Lara Cain Gray
Walk With Us is the fourth in the Welcome to Our Country series by anti-racism advocate and former footballer Adam Goodes, with Ellie Laing and David Hardy. Laing was inspired to create the series after her young son came home from kindy singing Aboriginal lullabies, leaving them both keen for better understanding. These books explicitly bridge the gap between First Nations Australians and the many diverse children, parents, carers and teachers who are developing their knowledge of history and culture.
In this book we meet young Harvey, who is telling his mum about the Acknowledgement of Country he heard at school. His mum admits that they didn't learn that when she was little. 'Can you teach me?' she asks.
The next day Harvey and Mum go to a nearby park and take a tour with elder Uncle Boris. 'Who's ready to walk with us on Cammeraygal land…' Boris asks. Their familiar local park takes on new levels of meaning as the tour guests learn what it means to have a deep understanding of country, through language words for flora and fauna, bush medicine, history and ceremony. Hardy's illustrations are clear, bright representations of the text, helping the book's function as a literacy tool.
The book begins and ends with illustrated vocabulary lists and includes biographies of the creators. A QR code allows you to listen to a reading of the story. A short introduction on the imprint page reveals some personal connections between the authors and the book's symbols, such as the black cockatoo, which has ancestral relevance for both Laing and Goodes.
In short, every facet of this book is designed to guide readers on a learning journey – a gift to teachers looking for authentic ways to embed First Nations perspectives into the classroom. It demystifies terminology, explains everything in open, child-friendly ways, and highlights the benefits to all Australians of taking time to mindfully connect with their environments.
Lara Cain Gray

's book A Grown Up's Guide To Picture Books is being published soon