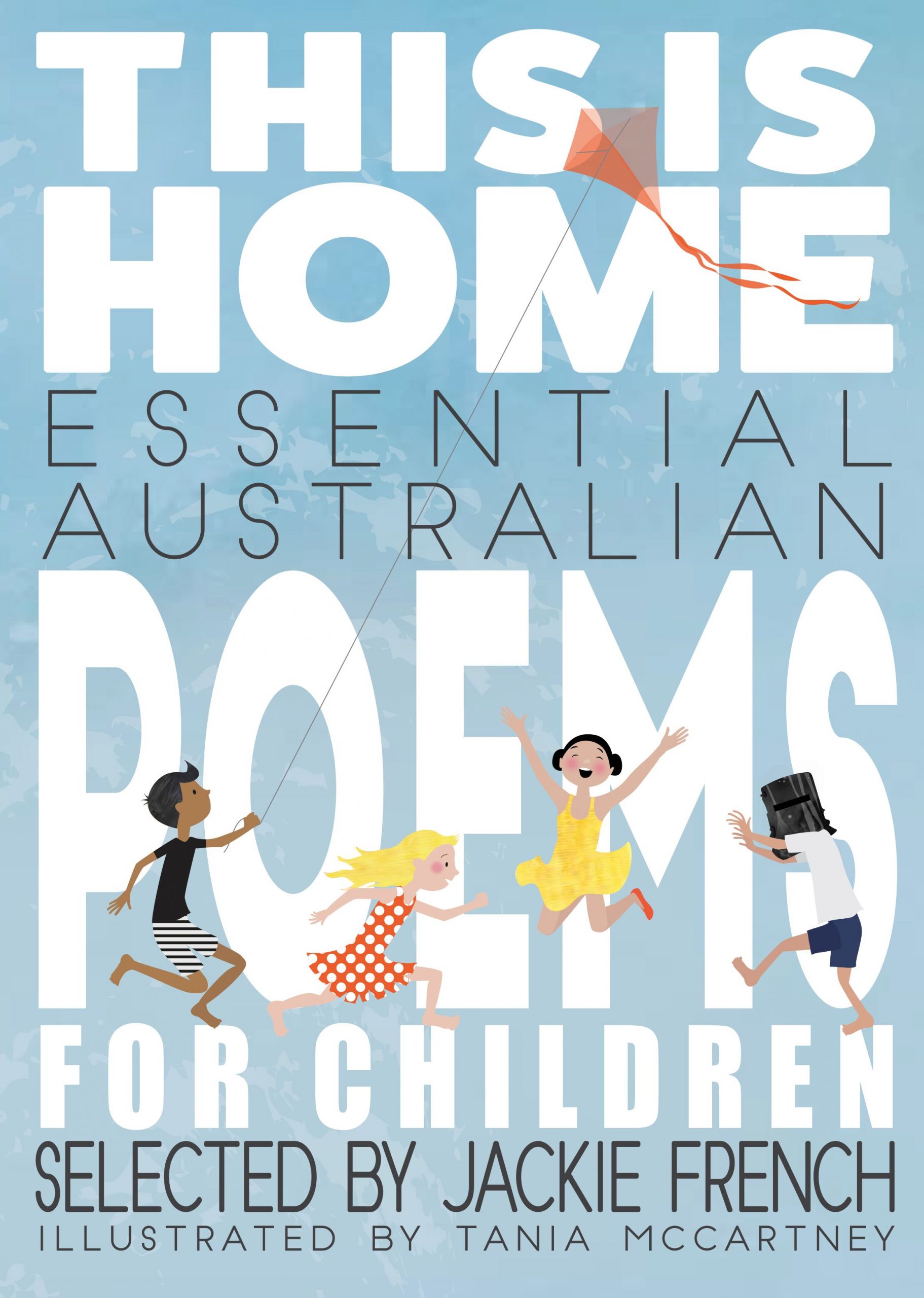 This Is Home: Essential Australian Poems For Children
selected by Jackie French
illustrated by Tania McCartney
reviewed by Mia Macrossan
This  beautifully produced book aims to to introduce young readers to the pleasures of poetry and to 'represent as many threads of our diverse past and culture as possible'. That is a huge task to accomplish in 159 pages. The selection includes some iconic Australian poems  and selections from modern writers, some perhaps more famous for their novels than their poetry.
French has grouped her eclectic selection of poems under ten headings , each of which has a stunningly designed introductory page with some thought-provoking words from French. She starts  with
The nations of 60,000 years (2 poems), moving on to
Colony (2 poems) and
The Stolen Land (2 poems). Then we have
A Hard Land (3 poems),
Heroes and Legends (5 poems – bushrangers, Ned Kelly, 'Clancy of the Overflow', 'The Man from Snowy River') and
A Nation Forged in Drought and Hardship (2 abridged poems by Henry Lawson), followed by
Anzacs (5 poems including an abridged selection from Gellert's 'Anzac Cove'). Then
Immigrants (2 poems)  followed by the biggest section of the book
Learning This Land (15 poems including works by Jackie French, Judith Wright and Dorothea Mackellar).
Laughter is allocated 10 poems and
You and Me has 11 poems. The last two sections look outward.
Beyond Our Beach has 3 poems on current topics and
What Australia Is and May Become has 6 poems concluding with the final word given to Oodgeroo Noonuccal's 'A Song of Hope'.
This is followed by a very useful section of notes on the poets and some of the poems. There is an index of poets and poems but no index of first lines. The book has no table of contents but instead has French's suggestions on where to start depending on your interests and proclivities. This creates  very unusual mini collections of poems e.g. story poems, animal poems, poems to challenge the brain and heart, poems to sing to. This is original and admirable but why are there no page references given for these poems? You have to go to the index to find the poem you may want to read. This arrangement means that this collection is more of a lucky dip even though the poems are arranged thematically.
The stunning artwork certainly encourages browsing. Tania McCartney has been allowed lots of space to create numerous vibrant double page spreads and full-page illustrations alive with colour, each one a comment and extension on the written words. The book is a high quality extremely attractive production. Children will enjoy leafing through and reading whatever catches their interest. I agree with French when she writes ' if even a few poems in this book make you feel as if a window has been washed and you see the world more clearly and more beautifully, then that's enough'. A beautiful book containing some wonderful poems that would make a welcome addition to the school library collection, essential for children? No.
National Library of Australia 2019 Hardback $34.99 160 pages Age 7+ ISBN 9780642279385