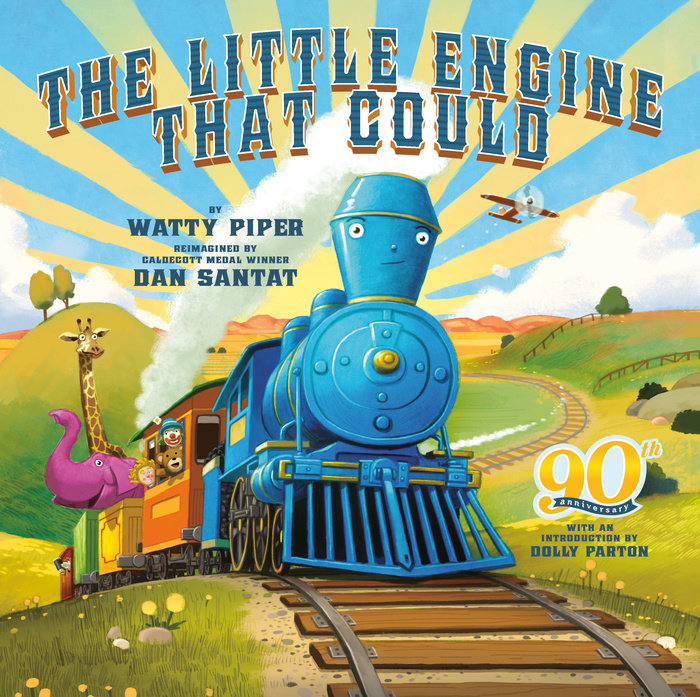 The Little Engine That Could
by Watty Piper
illustrated by Dan Santat
reviewed by Mia Macrossan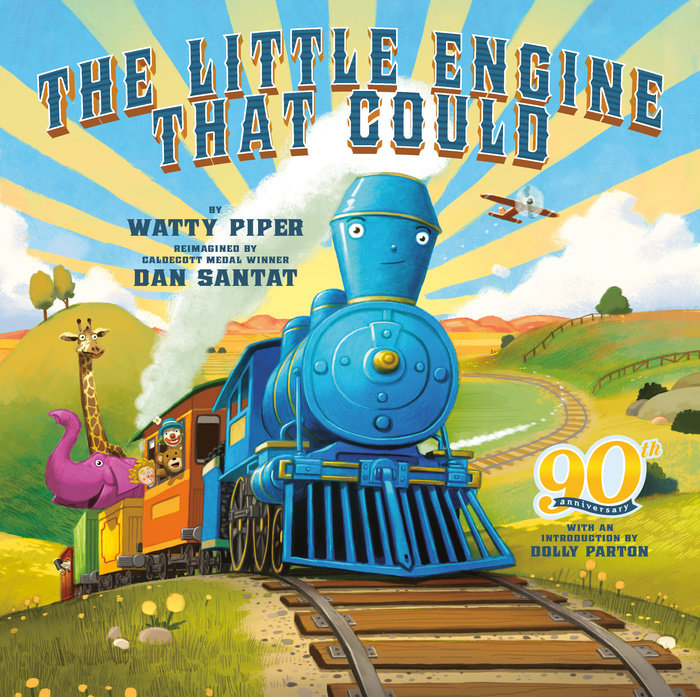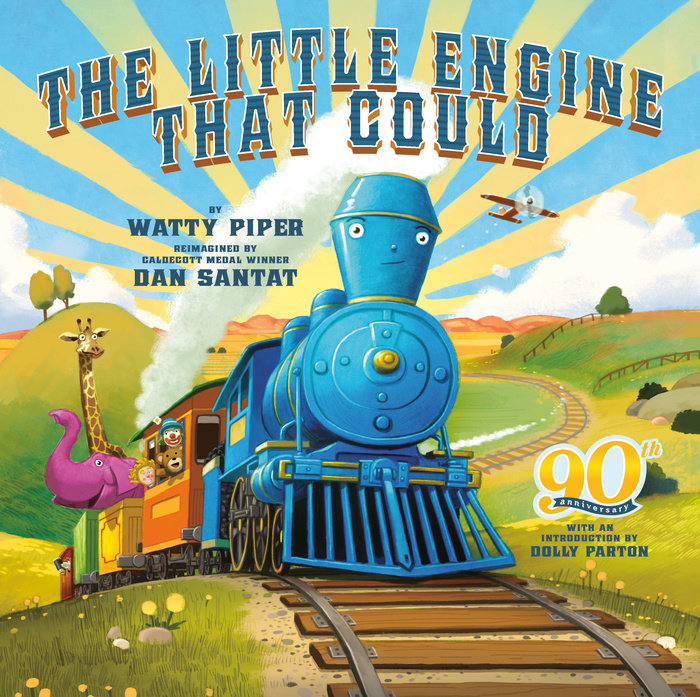 This famous story has been  re-issued in a 90th anniversary edition with an introduction by Dolly Parton, the founder of the Imagination Library
The popular tale of the little engine that could has had many incarnations ranging from the 1930s edition with illustrations by Lois Lenski, a slightly revised version in 1954 illustrated by George and Doris Hauman, again in 1976 illustrated by Ruth Sanderson and now this bright and cheerful 2020 edition 're imagined' by the Caldecot medal winning illustrator, Dan Santat.
The story briefly concerns a little train that is carrying toys and food for the good little boys and girls that live on the other side of the mountain. She is chugging merrily along when comes to a sudden stop and can go no further 'she could not go another inch' ( interesting that the editors while changing words such as 'gayest', 'good', and 'jolly' left in 'inch').
One of the toys on the train, the funny little clown, asks in turn a Passenger Engine, a Freight Engine and a Rusty Old Engine for help but they all refuse for various reasons. Then he asks a Little Blue Engine who has doubts because she is small but she agrees to help. The way is difficult but she encourages herself by saying 'I think I can – I think I can – I think I can', a phrase that so aptly captures the  rhythm and struggle of the engine that it has become embedded in the language.
So it is not surprising that this inspirational book was chosen by Dolly Parton to be the first title in her Imagination library. She wanted that first book to be one that everyone loved. She writes: ' It gave me strength, it gave me hope and it gave me the courage to keep chasing my dreams'. And as Dan Santat says in the afterword, this story is 'the voice in your head that gives you permission to believe in yourself when no-one else does'.
Santat has done a great job in keeping the old world charm with strong colours and simple shapes. He has taken advantage of the bigger picture book format to tell the whole story in massive double page spreads that pop with colour. There is more text than is usual in a picture book but it is carefully paced and positioned so as to complement the artwork.
The whole result is splendid. The cover, the text, the  artwork, and even the endpapers, all reflect the care and thought that has gone into producing this gem of a book.
A perfect addition to a home or school library, this edition will become a treasured favourite with a whole new generation or readers.
Grosset & Dunlap 2020 Picture Book $32.99 Age 3 – 7 ISBN 9780593094396