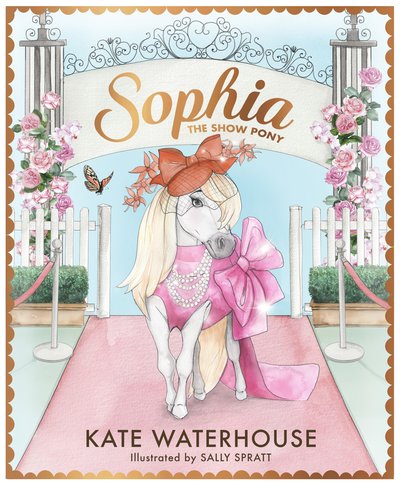 Sophia the Show Pony
By Kate Waterhouse and illustrated by Sally Spratt
Reviewed by Sarah Custance

Kate Waterhouse is an Australian journalist, model, and media personality. Sophia the Show Pony is the debut picture book for both Waterhouse and illustrator Sally Spratt.
Sophia is a show pony, as fashionable as any horse can get. She has more designer hats and gowns then she could ever wish to use, and she has a deep love of fashion. However, Sophia also has a secret… she would also desperately like to be a racehorse! As she talks to some of her friends, they all point out that she is a show pony, that is what she is good at and that is what she should do, she doesn't want to make a fool of herself now does she?
As Sophia starts to give up on her racing dreams, the Giddy Up Cup takes place where Queen Clydesdale is to judge the most fashionable filly. But when the Queen's hat flies off onto the racetrack it is up to Sophie to prove that you can be both fashionable AND fast.
The rhymes in this picture book did feel quite forced at times and some of the illustrations could be fairly distracting from the story (there is a bear wearing a VERY unflattering dress, along with a pig and goat that have earing's half as big as their faces) but overall if you have a young reader who loves horses, fashion, and lots of pink, then this the picture book for them!
The idea that you can do and wear whatever you like as you follow your dreams is a nice theme and seeing some of the animals dressed up is very cute, like the sweetest little bunny you've ever seen. I doubt that Sophia the Show Pony will go down in history next to Beatrix Potter's work but for what it is, a fun, silly, and light-hearted book, it will do very well with the right audiences.