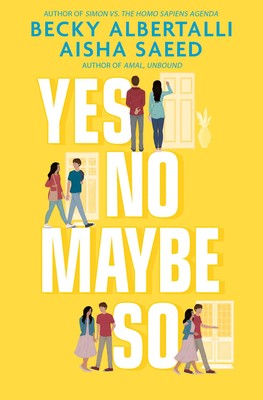 Yes, No, Maybe So
by Becky Albertalli and Aisha Saeed
reviewed by Margaret McKay-Lowndes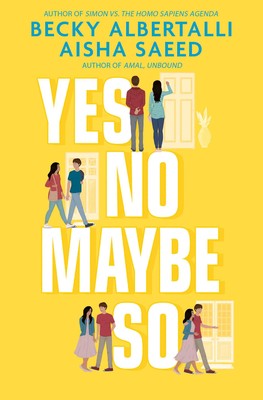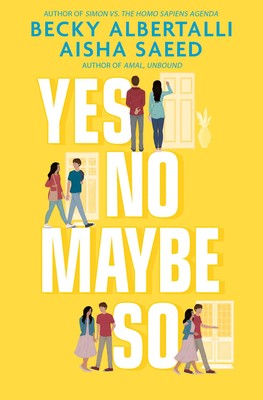 Yes, No, Maybe So is a collaboration, and the latest publication, from authors Becky Albertalli and Aisha Saeed. Albertalli's novel, Simon Vs the Homo Sapiens Agenda has been made into a film, and Saeed's novel Amal Underground was widely praised and awarded.
In this story, Jamie and Maya are teens living in Atlanta, Georgia. Jamie is Jewish and Maya is Muslim with South Asian heritage. The narrative alternates chapter for chapter between the two characters, allowing insights into their different perspectives, while remaining respectful of each faith. The relationship of Jamie and Maya is cast against a political background as they spend the summer working on the campaign of Rossom, a Democrat running for election in the strongly pro-Republican state of Atlanta. This aspect of the story is loosely based on the campaign of real-life Democrat Ossof.
Jamie is shy, and terrified of public speaking. Maya's parents have separated and her best friend is moving away. Read at face value, the story gently unfolds as the two protagonists draw closer to each other, fall in love, and overcome their difficulties. Readers who like to spend a lot of time with relatable, likable characters will enjoy this aspect of the 400+ page novel.
Scratch the surface, however, and some flaws rise to the top. Firstly, Maya is Muslim, observing strict Ramadan and adhering to the faith around dating (no dating). She becomes re-acquainted with Jamie, a Jewish boy with whom she played  as a toddler. Inevitably, she falls in love with Jamie, creating a dilemma which is resolved quite suddenly when she rejects her Muslim teachings, with little explanation or reflection on her part.
Secondly, the political tone of the story is decidedly one-sided. In spite of some congenial right-leaning minor characters (Kevin, the sales assistant) the Democrat world view is favoured throughout. While presenting anti-Semitism and Islamophobia as repugnant, it is at the same time disturbing that Republican voters generally are assumed to be anti-Semitic and Islamophobic within the narrative.
Thirdly, the novel is casting the net wide over a range of modern issues by embedding them into the lives of minor characters. Jamie's friends incorporate a gay couple, his sister comes out, and privacy is invaded via social media. However, the novel is notable for its use of teenage slang, and the incorporation of social media and modern technology which adds to the plausibility and realism of the story.  The political campaign is realistic and recognisable. There are some entertaining minor characters.
Recommended for those who enjoy a long, comfortable love story.
Simon and Schuster 2020 Paperback $17.99 448 pages ISBN 9781471184666