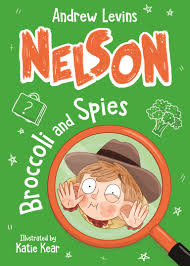 Nelson – Broccoli and Spies
By Andrew Levins
Illustrated by Katie Kear
Reviewed by Sarah Custance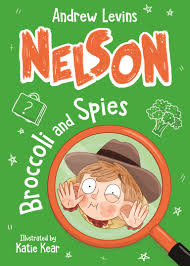 Andrew Levins is a well known Australian DJ and food writer. Broccoli and Spies is the second book in the Nelson series all about a young boy who discovers that he has superpowers but only when he eats the worst food in the entire world… vegetables.
In the first book we learnt that eating pumpkin gave Nelson super strength which was needed to fight off an alien attack. In this book Nelson learns that by eating broccoli he becomes invisible. So when you have the power of invisibility, super cool gadgets, and you've just found out that your grandmother used to be a spy, you would expect a big mission. Instead, Nelson's grandmother has him sitting in a field all night on the watch for the people stealing her pumpkins. Things take a turn though when Nelson realises that the pumpkin thieves are actually spies too trying to figure out the source of his powers.
Broccoli and Spies is a funny, silly, easy read for newly independent readers. The book's fast pace and outlandish scenarios should have a young audience captivated from the start and smart parents will use this as a good opportunity to force some vegetables into their children under the guise of 'seeing if you have any superpowers'.