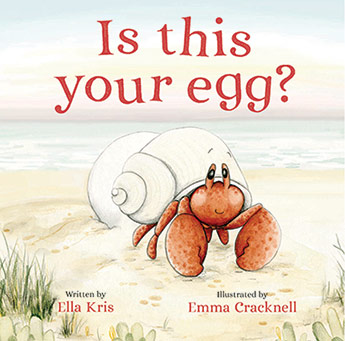 Is This Your Egg?
Written by Ella Kris
Illustrated by Emma Cracknell
Reviewed by Mia Macrossan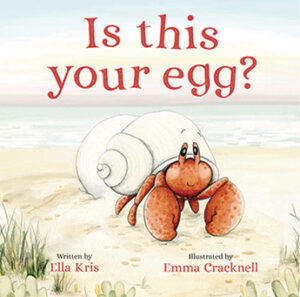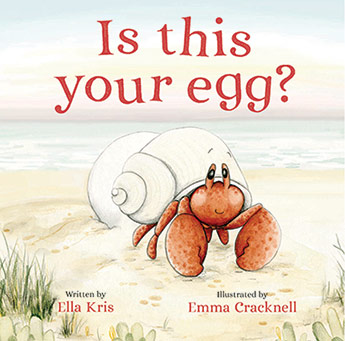 This title is one of the twelve new picture books for Queensland's youngest readers published as part of First 5 Forever, an early literacy program  initiated by the Queensland Government and coordinated by the State Library of Queensland.
Ella Kris grew up in the remote community of Thursday Island and has long had a deep love for wild open spaces.
Emma Cracknell is from Boonah and is happiest working in traditional media such as watercolour, gouache paints and pencil sketches.
Henry the Hermit Crab finds a small soft round egg on the beach and wonders who it belongs to. He rolls it across hot sand, between tall dry grass, along the mudflats, between the short grass and the mangroves and back to more hot sand.
He asks the various animals that he meets if this is their egg and each one replies no, and describes what their eggs look like. Henry finally finds a resting spot for the lost egg in with the eggs in the nest of the large green sea turtle.
After a few weeks a little turtle crawls out and starts looking for her home. Along the way she meets all the animals that have now hatched out of their eggs until she meets up with Henry who tells her she is a hawksbill turtle and that she belongs in the sea.
This is a gentle story about finding out who you belong to and where your home is. Ella has incorporated Meriam Mer words for the animals that Henry meets and a glossary at the back provides an English meaning and a pronunciation guide.
The softly coloured illustrations are beautiful:  every animal is shown  in its natural habitat with its clutch of eggs in the first half and later we see the parent and offspring in its nest, mound or burrow.
There is so much here for young children  to learn and enjoy.
State Library of Queensland First 5 Forever 2020