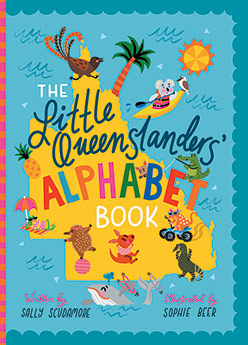 The Little Queenslander's Alphabet Book
written by Sally Scudamore
Illustrated by Sophie Beer
Reviewed by Mia Macrossan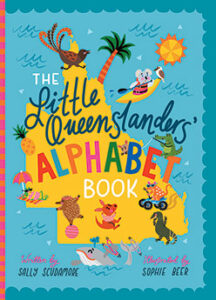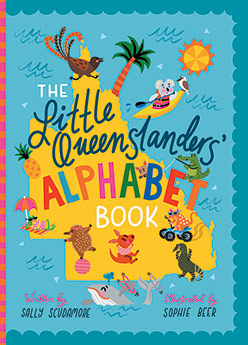 This large format alphabet book is firmly aimed at young Queenslanders.
Each letter of the alphabet introduces a Queensland animal performing some activity somewhere in Queensland. Alliteration is the guiding principle so we have 'Ants admiring in Augathella' through the alphabet right up to  'Zebra finches zooming in Zillmere'.
The animals are quite familiar but some of the place names are not, which means there is unlimited opportunity to explore where these places may be and who and what lives there. For the lucky children living in the Brisbane suburb of Zillmere they get a mention in their very own book, and who knows where everybody's relatives live or have visited?
The book is a litany of verbs – frolicking, kayaking, leaping, napping, marching peeping, tiptoeing, and more  that  children can engage with.
Sophie Beer's artwork encapsulates Queensland's bright tropical colours. Each page and letter has its own colour with animals frolicking in a style reminiscent of Ken Done's iconic illustrations.
A splendid way to celebrate what is wonderful about Queensland.
The Little Queenslander's Alphabet Book is one of the twelve new picture books for Queensland's youngest readers published as part of First 5 Forever, an early literacy program  initiated by the Queensland Government and coordinated by the State Library of Queensland.
State Library of Queensland First 5 Forever 2020