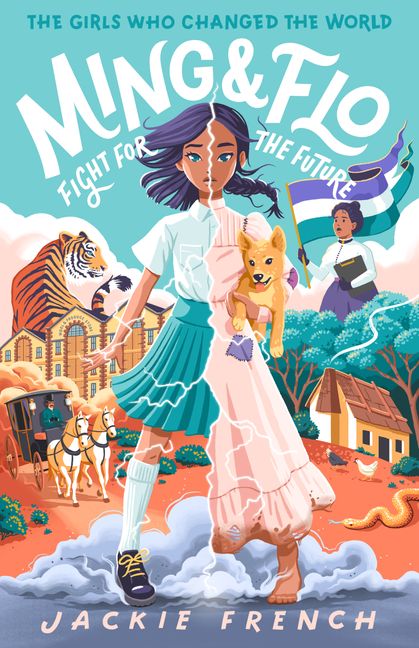 Ming & Flo Fight For the Future
Book #1 The Girls Who Changed the World
By Jackie French
Reviewed by Mia Macrossan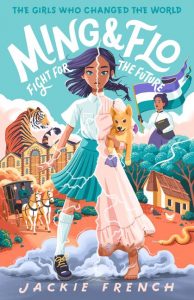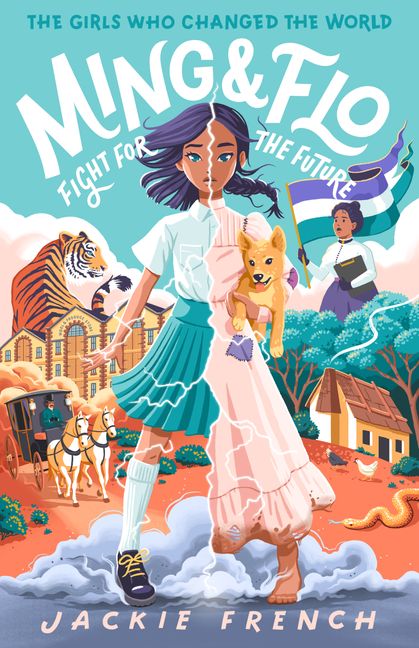 Jackie French is the much awarded former Children's Laureate whose published books for children are too numerous to mention. She excels at bringing history alive for young readers. With Ming and Flo she has  created two characters that bring to light an underrepresented period of Australia's history.
Twelve-year-old Ming Qong is convinced that girls must have changed the world, even if they are rarely mentioned in history books. When she gets the chance to go back in time, she imagines herself changing destinies from a glittering palace or an explorer's ship. Instead, she ends up in Australia in 1898, living a tough life as Flo Watson on a drought-stricken farm.
This is all vividly brought to life with excellent period detail – we experience  the heat , the dust , the drought; we get a glimpse of the unequal and sometimes violent relationships between men and women (Flo's mum has a black eye), and we see the poverty and privation of life in the outback (snakebites, rabbit stew, bark hut).
Luckily, Ming is rescued by Flo's Aunt McTavish. Wealthy Aunt McTavish belongs to Louisa Lawson's Suffragist Society, who are desperately and courageously fighting for women's rights. And Ming is determined to get involved, to make a difference. Her efforts are a little impeded by her aunt's determination to bring up her niece as a lady. Ming has to wear a corset, black mourning clothes, she has to comport herself properly, keep her gaze down, not ask personal questions of the servants and more. Ming finds plenty of things she would like to change. Girls she finds have 'nothing jobs, for nothing girls', p 132.
This fast paced engaging book covers many themes, including racism, but the central concern is  inequality of opportunity not just for girls and women, but all people who are not European, including Indigenous peoples. French highlights the gap in life style of the rich and the poor. She even touches on the plight of animals in a chapter where Ming visits a zoo and realises that 'once you became used to human misery all around you, it must become easier to ignore the suffering of animals', p 217.
French has included details of lots of food eaten at the time to add flavour to Ming's story (sorry, couldn't resist).  There is rabbit stew, potato cake, corncobs, bread, cheese, raspberry cake, damper, cold chicken, pork pie, pickled beetroot, yellow pickles, yellow cake, fruit cake, syrup dumplings, mutton sandwiches, scones, roast pumpkin, boiled cabbage, choko jam, fried eggs, plum jam, boiled jam pudding, brown soup, white fish, roast lamb, plum pudding, porridge, creamed brains, tapioca pudding, as well as the modern mooncakes, steamed buns, even haggis gets a mention.
This is a thoroughly engrossing and enjoyable read, full of fascinating detail about the daily life of the time that will interest young readers. Ming is fun as well as courageous and I look forward to reading about her next adventure.