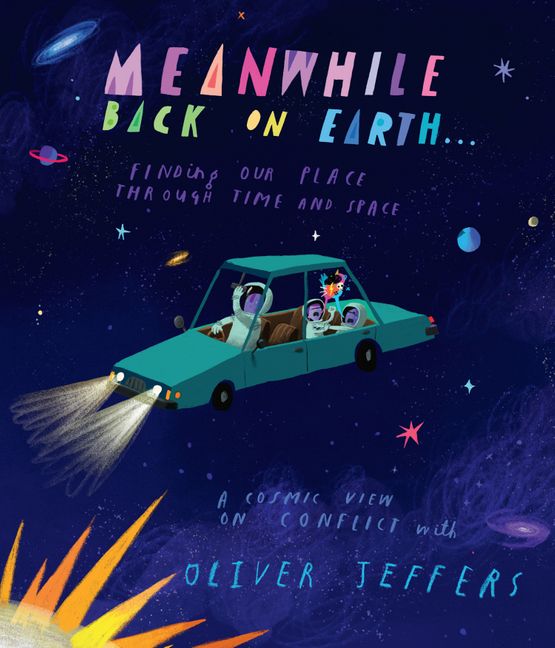 Meanwhile Back On Earth – Finding Our Place Through Time and Space
Reviewed by Lara Cain Gray
Oliver Jeffers

 is a brand unto himself these days. If you're a fan I presume you'll read this book, review or no review. From kid favourite The Day The Crayons Quit to How To Catch A Star Jeffers is known for vibrant colour and strong characterisation. In recent years, his work for young readers has pivoted a little from the light and heart-warming, to the determinedly political, and this new release falls into the latter category.
There's a microcosm of the cosmic adventure on the cover – a parent takes two squabbling siblings on a road trip through space. The sub-sub-title reads: A cosmic view on conflict with Oliver Jeffers. Dad views this particular conflict in the rear-view mirror, setting up the reader's journey along with the metaphor that sustains the narrative. As the family travels in light years, the reader is jumped backwards to the parallel period of Earth history. It would take 78 years, for example, to drive to Venus. Back on Earth, 78 years ago, the whole planet was fighting World War Two.
The narrative moves through empire building, wall building, and important discoveries like metal (which conveniently made fighting even more effective), following a history of invasion and war. For shared or classroom reading, this book could be extended with a deep dive into the battle tales and/or the space journey, which is also mapped and measured.
While the use of the family road trip is fun and relatable, the message is not particularly hopeful, since it clearly shows that humans in every era have been determined to fight over territory. From kids claiming the best seat in the car, to invaders claiming the best spot on the beach, we're alarmingly precious about owning a piece of a planet that can never actually belong to anyone.
The book also suggests we look at our egos, given the overall insignificance of Earth in a vast universe. The story ends with Dad asking the kids 'Do you want to keep going? Or, do you want to go home?' The question is, in fact, for all of us: do we want to keep doing things this way? Or is there a better way forward for us as humans and planet custodians?