Stop the Dad Jokes
By Adrian Beck
Illustrated by Simon Greiner
Reviewed by Mia Macrossan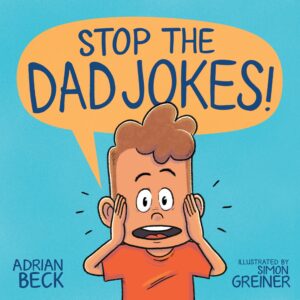 Adrian Beck is the author of several popular humourous stories for children including the Derek Dool, the Champion Charlies and the Alien Zoo series. Simon Greiner has illustrated a number of children's books including Regal Beagle, The Short & Curly Guide to Life and the League of Llamas series.
In this picture book a dad takes his son to the zoo which becomes the occasion for him to tell countless terrible jokes much to the embarrassment of his son.  As he says:
Now dad jokes, my boy, they're quite the tradition.
Look around and you'll find it's every dad's mission.
Even the animal dads join in with some memorable jokes: Here's one from the lion 'I ate a clown once, son, He tasted funny.' And from the octopus – Why don't crabs ever share? Because they are shell – fish!'
All right I will take pity on you and stop there. Told in rhyme throughout this book is very silly and very enjoyable.
The cartoon style illustrations in bold colours suit the subject very well. I can't quite understand the title Stop the Dad Jokes as it is really a celebration of terrible dad jokes told by dads everywhere. I can see this becoming a firm favourite all year round.