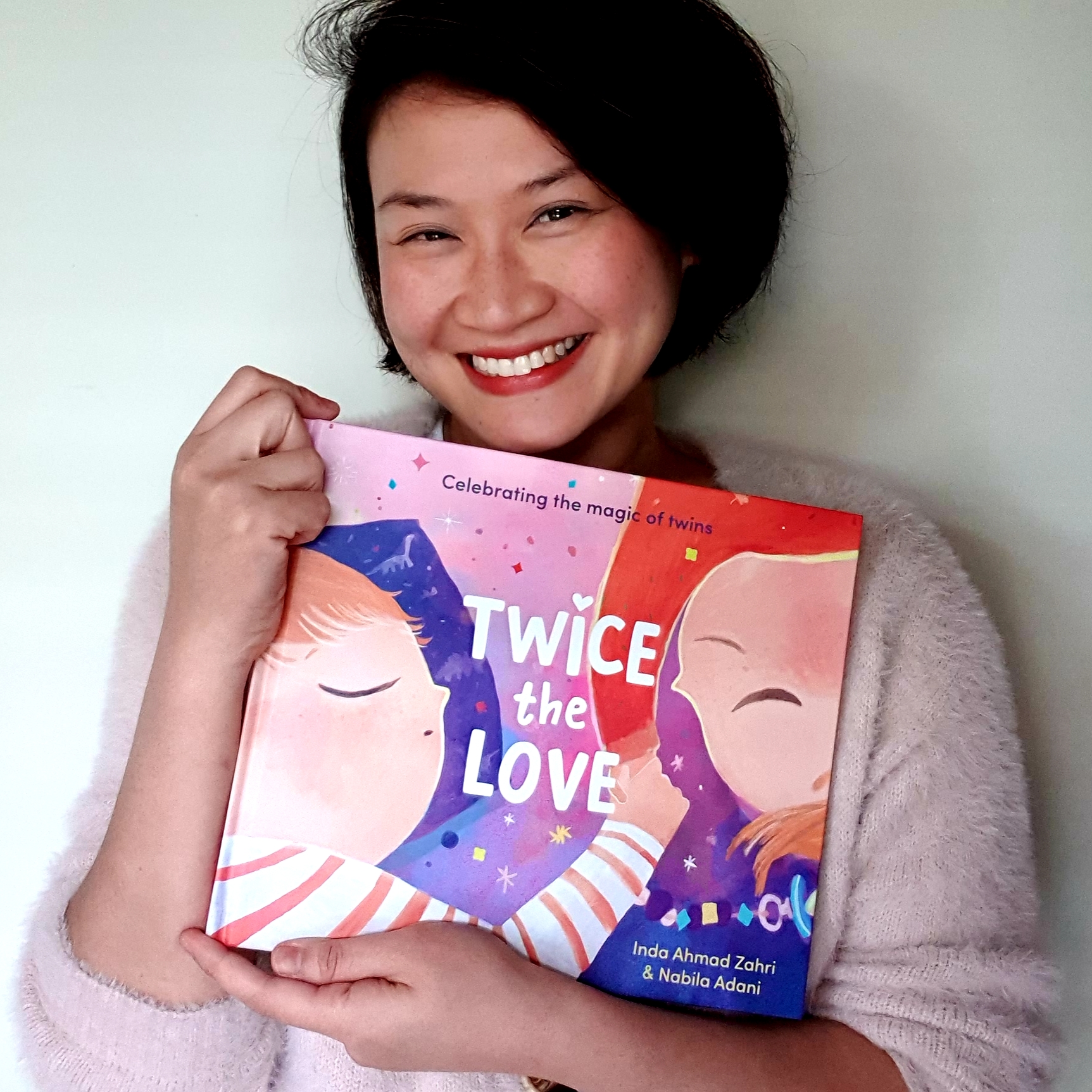 Ask the Author: Inda Ahmad Zahri
 StoryLinks interviews author and illustrator  Inda Ahmad Zahri
Inda was born in Malaysia, went to university in England and graduated as a doctor in medicine and surgery. She then moved to Australia, got married and had a daughter. She is the author of  Night Lights and Salih, a 2022 CBCA Notable, and has illustrated The Legend of The Golden Swan written by Rosemary Coburn.
 When somewhat unexpectedly twin boys arrived one of the results is her latest book Twice the Love, published this year by Affirm Press.
Congratulations Inda on the publication of your latest book Twice the Love which I assume was inspired by the birth of your own twin boys. Your book is very positive, warm, full of good humour even about the inevitable difficulties. Tell us about the process of writing this book about twins when you yourself have twins!
Thank you, Mia, for your kind words! This book was indeed inspired by my twins, but I actually wrote it before they were born. I have an older daughter, and found motherhood to be a life-changing experience. When my husband and I were ready to have another, we foolishly thought we had this parenting thing down pat, until we discovered we were having twins. We were back in uncharted waters! Through the shock of the news and the fug of morning sickness and lethargy, the 'twice' refrain kept playing in my head, different verses coming together in rhyme, until I felt I had enough to make a book. I tightened the manuscript further after a meeting with editor Meg Whelan and publisher Tash Besliev from Affirm Press, and I decided to add another verse after the twins were born, but otherwise I'm glad to see that the original verses largely rang true.
Are there many books about twins out there? How has the book been received? What are your hopes for this story?
The Sweet Valley Twins junior fiction series immediately comes to mind – I loved them as a kid! I know of several picture books featuring twins, though the warm and enthusiastic reception I've had from twin families for Twice The Love tells me that there aren't enough! I think Twice The Love fills that gap in the market for new baby books specifically for twins, where before you'd have had to present a book signed for two, while featuring only one newborn in its pages. And it's exciting to be a part of that.
I hope that this book can be a celebration of the special privilege we have of nurturing and loving two babies at once. Yes, it's busy and messy, but it's also full of wonder. At the same time, I want to acknowledge the challenges that come with that privilege. Parenting is hard, and twin parenting can truly test the limits of a person's patience and sanity. So, I allude to twice the hopes and twice the dreams, but also twice the tantrums, twice the grumps, because twin families will relate to both. I absolutely love hearing back from those families who say that their own emotions and experiences were somehow captured in these pages.
This is also in huge part thanks to Nabila's adorable illustrations, which are so lovingly inclusive in portraying not only different twin types (identical and fraternal) but families from different backgrounds, too.
You have written the text in verse. What prompted you to do that? Was it difficult since English is not your first language? 
It came to me in verse! When this happens, I rarely change it to prose or vice versa, so my manuscripts in progress are a mix of both. In fact, I have another rhyming picture book coming out in 2024. Malay is my mother tongue, but I've been speaking English since I was little, and probably cut my teeth on verse and nursery rhymes, as kids often do, so I found it quite enjoyable. I love poetry and the satisfaction of a line landing on a rhyme.
As an illustrator yourself (The Legend of the Golden Swan by Rosemary Coburn and upcoming picture book The Month That Makes The Year) how was it working with Nabila Adani? Talk to us about the relationship between illustrator and writer – so important in a picture book. 
I've really been blessed with illustrators in my books to date. As the author, I'm very careful to leave them to their own creative process. I often say hello after receiving the first round of roughs, to express my appreciation, but mainly then communicate via the editor so as not to interfere.
The text left a lot of room for interpretation, and we were faced with the conundrum of either following one family, or many. Nabila overcame it with the clever idea of featuring 4 families throughout the book, with one family in focus on certain spreads while keeping up with the others via photos. I adored the roughs straightaway, and was excited when the colour spreads came through via our editor Coral Huckstep, who has a keen eye for detail.
Nabila was also very kind to include my own family, featuring my daughter (it was important for me that siblings were included) and identical redhead twin sons, who also grace the front cover. I like how she often illustrated away from the literal interpretation of the text and brought her own energy to the story. I didn't ask to change much, aside from my husband's eye colour!
Does being a Muslim affect how you write? Does it inform your writing and are you on a mission to explain a way to life to Australians who may be ignorant?
Though I often write about what I know best, as a rule I don't consciously approach a page as a Muslim, or a Malay, or a woman. I am those things naturally, and these aspects of my identity will show organically and inevitably, but primarily I'm thinking of how best to write this story. And though I agree that own voices stories can be incredibly compelling, these are not the only stories I want to write. This is probably most obvious in my anthropomorphic tales, as much as I wish I were half-fox or half-octopus! Having said that, when I step back from the page and take in the landscape of children's literature, it's easy to see that there are problems or imbalances in the representation of stories with regards to girls, people of colour, Muslims and cultural diversity, and here is where I think I can meaningfully contribute.
An example of this is my upcoming picture book, which is about the spiritual practice of Ramadan, told from the point of view of a young Muslim character living in a country like Australia, where Muslims make up a significant proportion of the population, but are not the majority. It's a story that shines a light on this special month for the benefit of those who are curious and unfamiliar, but also explores the reasons that make it special for those of us who observe it. So, I don't see myself as being on a mission to educate the ignorant, rather just telling a story that shows the universality within our different cultures.
Coming back to Twice The Love, I was happy that Nabila Adani, who is also Muslim, included not only our family, but a hijab-wearing mum in her illustrations. This kind of representation really does matter, especially for a child seeing their hijab-wearing family member in a book standing alongside others in bookstores, or enjoyed by their classmates or friends.
Your upcoming picture book which you have just mentioned will be your first as both author and illustrator – how exciting! What was the inspiration for this book? Is Deenie based on your daughter? What medium did you choose and why?
Thank you! The Month That Makes the Year will be released March 2023 with Allen & Unwin, and will be the first picture book about Ramadan traditionally published in Australia.
Many will recognise Ramadan as a time where Muslims fast from dawn to sunset, a practice that can sound pretty harsh and demanding. While pregnant with the twins, I shared on social media that I will not be fasting as concessions are made for pregnant mothers, travellers and those who are frail or ill, but I can still participate in the spirit of Ramadan in other meaningful ways.
I received a lot of messages following that post, and realised that many were not aware of the gentleness of the practice, and perhaps had not thought about why we do what we do. My own agent was so intrigued that she went on a hunt for books about Ramadan for her children, and asked if it was a story I had thought of writing.
I also came to realise that my children would have a very different experience of Ramadan compared to the one I had growing up in Malaysia, a Muslim-majority country where Ramadan is celebrated widely. My daughter is now the same age as I was when I first tried to fast (fasting is not compulsory for children, but many of us give it a go) and I knew that she and her friends would want to know more about it. She has this in common with Deenie, as well as a love of dinosaurs and soccer.
I chose to work digitally with the Procreate app on iPad Pro, and the reason for this circles back to the twins! Working in my other favourite medium – watercolours – would involve a lot of space, time to put down layers and let them dry in between, and less room for error – all of which were not sustainable with toddler twins running around, and the incredibly tight schedule we had in order to have the book ready for next Ramadan.
What are you working on atm?
About a hundred things! I've just about recovered from the hectic illustration schedule, and my mind is starting to think up new stories. I'm trying to keep the 'shiny new object syndrome' at bay and concentrate on my middle grade novel for which I won an ASA mentorship with the amazing Dr Robyn Sheahan-Bright. And I'm starting edits on another rhyming picture book titled Our Voices, Together which is due for publication in May 2024 with Bright Light. I've also started illustrating again for an informal Instagram challenge called Folk Tale Week.
What does the future hold for you?
Hopefully more bookish adventures, and a bit of traveling. My family and I are about to move overseas for several years, so I'll be learning new ways of keeping in touch with the Australian kidlit scene. Towards the end of the year I plan to start on my second author-illustrator title, again with Allen & Unwin. I have a constant carousel of stories that I am writing, refining and submitting via my lovely agent, Annabel Barker, as I can't seem to work on one thing at a time. So, we'll see!
Thank you, Inda,  for talking to StoryLinks, and we wish you all the best in both your writing adventures and your life's journey.
By Mia Macrossan