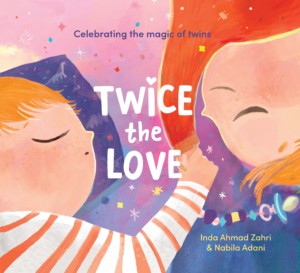 Twice the Love
Written by Inda Ahmad Zahri
Illustrated by Nabila Adani
Reviewed by Mia Macrossan
According to Twins Research Australia multiple birth numbers have remained relatively consistent in Australia over the last ten years with about 4,248 multiple births last year. That's a lot of twins! Inda, herself is the mother of twin boys and the author of two picture books including Salih,  and is supremely qualified to write about this fascinating subject.
Inda starts with the initial reaction to the news of twins.  Is it really true? Double-checking just in case, twice the babies in one place? Then follows all the usual baby delights and mishaps but doubled – laundry, snacks, bruises, tantrums, milestones and more. Four families, each different in their own way are shown and each type of twin combination is featured: Boy – boy, girl – girl, boy -girl pair, matching outfits, different hair, Difficult to tell apart, or chalk and cheese right from the start.
Through rhyming verse and joyful pictures, each page brimful of delights and disasters, reveals the experience of having twins to the reader. There is love  warmth and laughter on every page, maintaining good humour even during the inevitable difficulties.
As Inda says: I hope that this book can be a celebration of the special privilege we have of nurturing and loving two babies at once. Yes, it's busy and messy, but it's also full of wonder. At the same time, I want to acknowledge the challenges that come with that privilege. Parenting is hard, and twin parenting can truly test the limits of a person's patience and sanity. So, I allude to twice the hopes and twice the dreams, but also twice the tantrums, twice the grumps, because twin families will relate to both. I absolutely love hearing back from those families who say that their own emotions and experiences were somehow captured in these pages. This is also in huge part thanks to Nabila's adorable illustrations, which are so lovingly inclusive in portraying not only different twin types (identical and fraternal) but families from different backgrounds, too.
Nabila is to be applauded not only for the charm and vivacity of the illustrations but for the range and variety of family combinations that are portrayed in the book. This makes each page a rich vivid experience for readers to explore as so many baby events and activities are crammed into these well designed pages.
While this is the perfect book for any family with twins, it is also a charming way to explore what's in store when more than one baby is present at any gathering. Teachers will find much to discuss about  children and  families so do check out the Teacher's Notes.