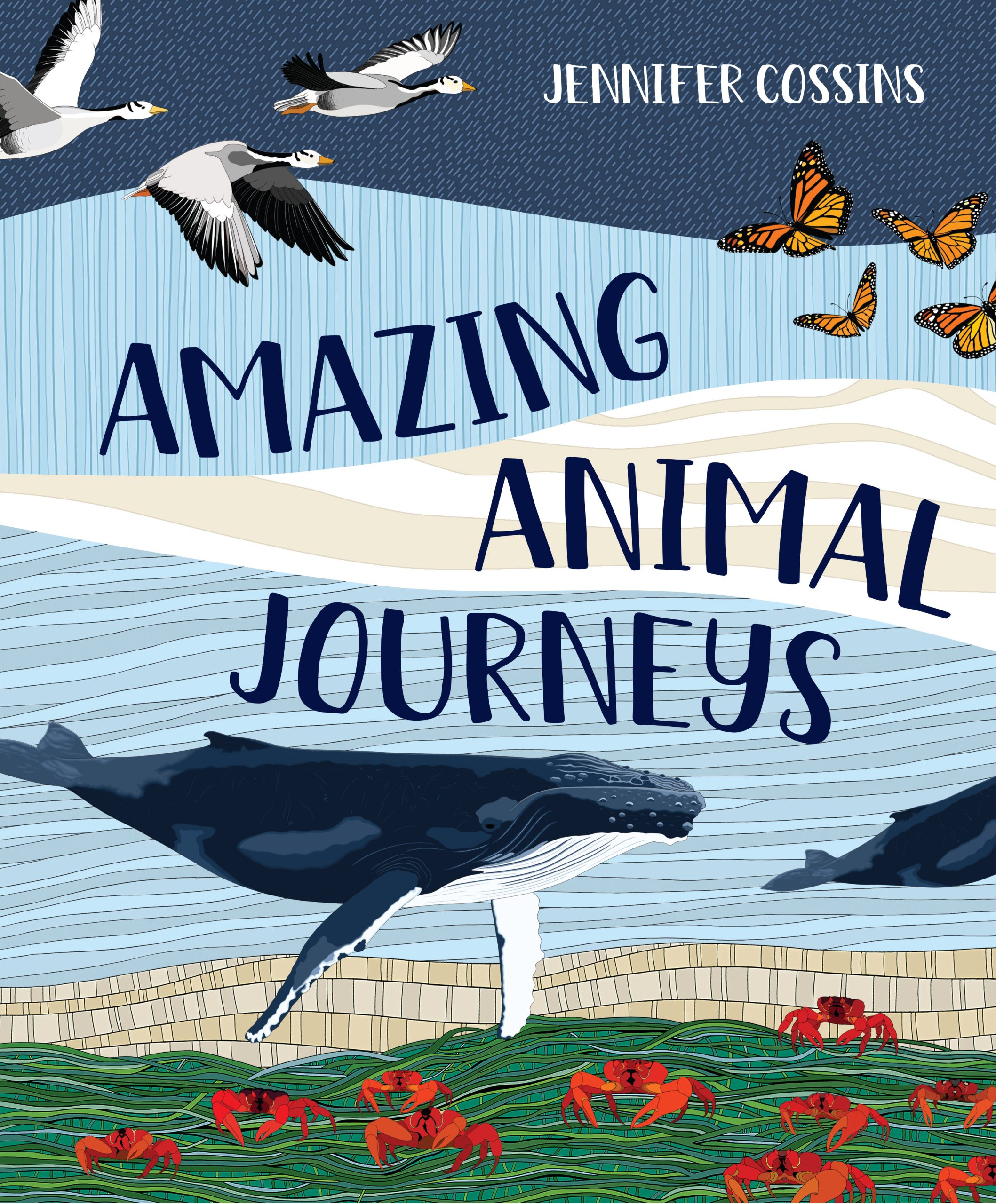 Amazing Animal Journeys
Written and illustrated by Jennifer Cossins
Reviewed by Mia Macrossan
A book by Tasmanian writer/illustrator Jennifer Cossins will guarantee a wealth of carefully researched information, a sensitive age appropriate text and stunning illustrations throughout, the whole creating a work that will inspire its readers for years to come. Her work includes the

Book of Curious Birds

, The Ultimate Animal Alphabet Book for middle grade readers, The Mummy Animal Book and The Daddy Animal Book for younger readers  and more.
In her thoughtful introduction to Amazing Animal Journeys Jennifer explains why animals migrate – it is to search for food, warmer weather or to breed. She has chosen 25 examples of migration, some possibly known to the reader, others less familiar. For each animal she describes the extent of the journey, the reason for it, the dangers faced and when and where they travel.
Often she will include some quirky fact that will resonate with the reader, e.g. the great wildebeest migration in Africa is one of the largest mammal migrations on earth, so large it can be seen from space! Great snipes can travel all the way from their breeding grounds in Sweden to Africa in three days without stopping to eat, drink or sleep!
She writes about the effects of these migrations on the environment, e.g. the straw-coloured fruit bat which once a year flock in their millions in one swampy forest in Zambia keep that forest healthy and happy by pollinating plants and spreading seeds.
Australia is represented by the bogong moth and the swift parrot, not counting whale migrations along the coasts. The whole is stunningly illustrated in Jennifer's fine line, detailed work, alive with colour and movement. At the end there is a one page glossary and another page of excellent internet links for those who want to read and learn more.
She has also added a note on conservation and climate change, a three page essay on how our world is changing, what effect this is having on animal life on the planet and what we can do to help. 'By learning more, and sharing our knowledge with family and friends, we all become more aware of how our lives affect animals, their habitats and their migration routes.'
Amazing Animal Journeys is one way to achieve this aim and is recommended for every school and home library.