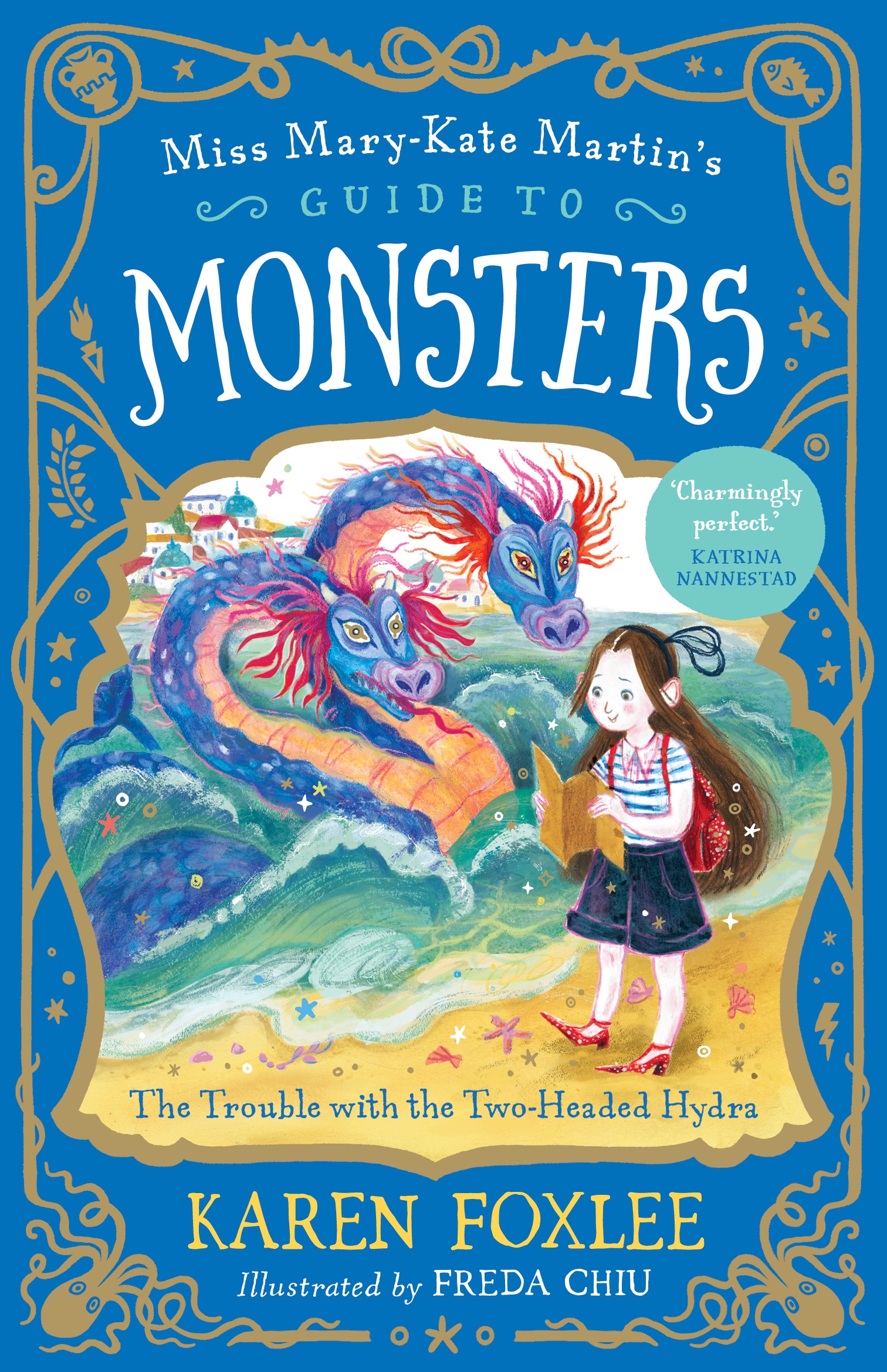 The Trouble with the Two-Headed Hydra: Miss Mary-Kate Martin's Guide to Monsters 2
By Karen Foxlee
Illustrated by Freda Chiu
Reviewed by Mia Macrossan
Karen Foxlee has written many award winning children's books including Dragon Skin, Lenny's Book of Everything, A Most Magical Girl and Ophelia and the Marvellous Boy. All are remarkable for their in depth characterisation and spell binding storytelling. The Guide to Monsters series is aimed at a slightly younger readership and the stories filled with mysteries, action and adventures.
In The Trouble with the Two-Headed Hydra Mary-Kate and her archaeologist mother fly to a remote Greek island to visit a significant dig site. It states at the beginning of the first chapter 'The Rule of Monsters states that people who have met one monster are statistically much more likely to meet another', so the scene is set for Mary-Kate, who so notably tangled with a monster in 'The Wrath of the Woolington Wyrm', to meet another one. This time the action is set in a gorgeous idyllic island surrounded by a sea of ever changing colours.
She meets Nikos, a boy about her age who offers her an all island bicycle tour. While her mum, the Prof, is at work they travel around and soon discover that all is not well. The island lives off fishing sardines but since the  glamourous Katerina Kyrios established a giant fish factory dumping its waste into the ocean, there have been mysterious accidents along the coast. Could the hydra be alive and taking action to preserve its habitat? Is Katerina involved and what part does Nikos's grandmother, the island's Custodian play?
Mary-Kate is still the same girl, a bit anxious, keen on her collection of lucky items, careful to wear matching colours, making lists and taking notes whenever possible, but we know from her previous adventures that she can overcome her fears, stay determined and achieve her objectives. Her encounter with the hydra is touching as well as suspenseful.
The idyllic setting mixed with some Greek mythology gives this mystery added sparkle. Karen expertly controls the plot, maintains the tension and has fun with the hydra. Each chapter is prefaces by a short quote from P K Mayberry's 'A Brief Guide to Monsters and Monster Hunters' which always gives a clue as what is about to happen next. We get a delicious clue to Mayberry's identity when Mary-Kate sends a postcard to her grandmother. I do hope she follows that up in the next adventure.
This story made me want to get on the next plane to a Greek island. I wonder where Mary-Kate will go next?
Perfect for middle grade readers who love mystery, adventure and a bit of fantasy.