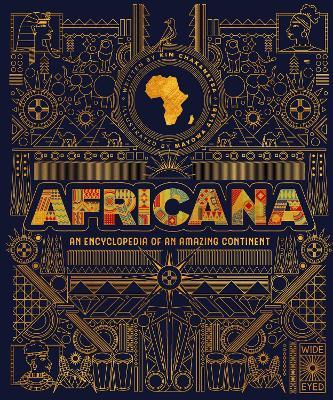 Africana : An encyclopedia of an amazing continent
Illustrated by Alabi Mayowa
Reviewed by Mia Macrossan
A long time ago I spent a year working for the UNECA in Addis Ababa. One of the things that experience taught me is that Africa is huge, vast, with many, many different people and cultures that have long rich histories, often unknown to us.
Africa is bigger than China, India, the contiguous U.S. and most of Europe—combined!  It is made up of 54 countries and is home to about 1.3 billion people who speak about 2000 languages. So this 95 page volume has a big task and it fulfils it admirably.

Kim divides the continent into five geographical areas – North Africa, East Africa, Central Africa, West Africa, and Southern Africa. For each region there is a map showing the countries in this section, a historical timeline, and a brief account of the people and cultures of the region and its wildlife and landscapes.
Change makers and superstars introduces the reader to  six inspiring people of that area, and snapshots of significant people and events concludes each section.
The final section Global Africa gives a history of outward migration, some ways in which Africa has influenced the world and some interesting proverbs. One of my favourites is 'when the threads unite, they can tie the lion' from Ethiopia. There is also information on African flags, a two page glossary and a comprehensive index.
The book is liberally and colourfully illustrated throughout with excellent design. The font is smallish but legible, necessary to pack in as much detail as possible. I did wonder why photographs were not used, especially for the people as some of them are a bit hard to recognise.
Overall a useful addition to a school library and a work guaranteed to stimulate and satisfy the interests of any child curious about this vast continent.