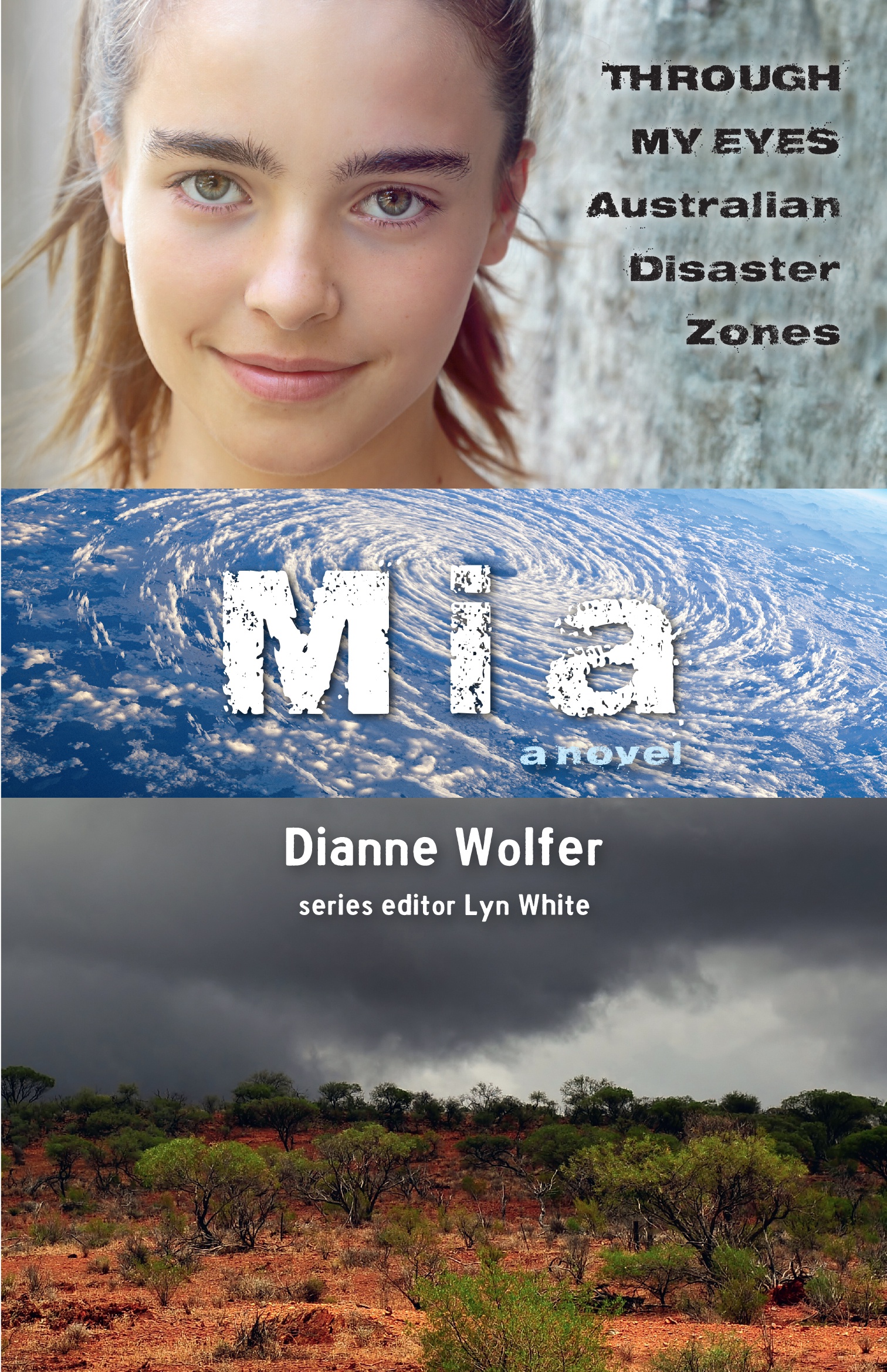 Mia: Through My Eyes – Australian Disaster Zones
By Dianne Wolfer
Reviewed by Liane McDermott
Mia is the third book in the Through My Eyes: Australian Disaster Zones series — a realistic historical fiction series recommended for children 11 to 14 years. Told through Mia's eyes, the story gives insight into environmental issues, life in a remote Australian community, and the experience of a tropical cyclone.
Thirteen-year-old Mia loves animals and is passionate about protecting the environment and helping her mum (who's a vet and equine therapist) care for their horses and injured animals on their bush block in the Western Australian Pilbara region. But the environmental impacts threatening local wildlife have caused nightmares and anxiety for Mia, along with a pending persuasive speech in front of her whole class, and niggling concerns that she may be drifting apart from her two best friends. While a counsellor provides Mia with strategies to cope with her panic attacks and anxiety, an even bigger threat looms when Cyclone Veronica forms off the coast.
When Mia's mum is called out to help save a mare in labour, Mia becomes stranded at home, alone, having to protect their property and their beloved horses and animals, as Cyclone Veronica bears down on the region. Mia has to muster all her courage and resilience to face and survive the cyclone all on her own.
Dianne Wolfer, a Western Australian-based and award-winning author of 23 books, including two books in the Aussie STEM Stars series and four books in the WWI 'Light' series has meticulously researched this story which is based on the real event of Cyclone Veronica which caused significant damage to the Pilbara region in March 2019. Through Mia's eyes, the reader glimpses what it feels like to live through a cyclone. Having grown up in North Queensland myself, experiencing both the threat and devastation of cyclones, I felt the author captured well the unpredictability and volatility of cyclones, and the escalating fear and anxiety as a cyclone bears down.
I wasn't entirely convinced, though, that a 13-year-old would be left to face an unpredictable Category 4-5 cyclone at her isolated home, all alone, for such a long time. However, this was one of the plot challenges noted by the author—keeping Mia's mum away for so long to stay true to the timeline of this slow-moving cyclone. But this is also what makes this story a compelling read­—how will Mia survive such a devastating cyclone on her own?
The Through My Eyes: Natural Disaster Zones series won an educational publishing award and this latest story, Australian Disaster Zones: Mia, also has many educational strengths which would make it a great classroom read. With themes such as climate change, environmental conservation, cyclones, disaster resilience, anxiety, courage, friendship, family and community, there are many opportunities for classroom discussion and links to curriculum learning areas (Teaching Notes are available).
Sensitive children or those already struggling with anxiety relating to climate change and environmental disasters may find the story a bit confronting, so additional discussion or focus on the positive themes of courage, resilience and hope would be beneficial. Children may also appreciate learning the coping strategies of mindfulness, breathing and sensory techniques that Mia shares when she's feeling overwhelmed.
Overall, Through My Eyes: Australian Disaster Zones: Mia is an empowering story providing children with insight into the different lives and experiences of Australian children.