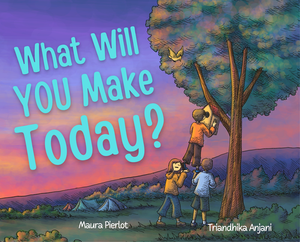 What Will You Make Today?
By Maura Pierlot
Illustrated by Triandhika Anjani
Reviewed by Margarite Igras
This non-fiction picture book, written by the award-winning author, playwright and filmmaker, Maura Pierlot is packed with wonderful full-page illustrations by Triandhika Anjani.
What will you make today? is a child centred book, that focusses on all the things a child can do to make a difference, by dreaming, listening, being involved, imagining, doing, and being aware. Set in a clearing, surrounded by trees, a creek, and birds in the sky, we see several tents in a large circle and can envisage friends and children on a camping holiday. We observe as the children participate in all kinds of activities. Some are about self: making friends, your bed, breakfast. Others are about the environment: planting a tree, cleaning up rubbish and caring for our fauna. On a bigger scale, children are directed to a better future through career choice, being proactive, and caring for the planet.
Each page contains one line of text, the beginning of which is repeated on each page – Will you make …with some of the surprising offerings of your bed?  your breakfast?  believe?  noise? friends? a discovery? a plan?  make things happen?  There is something rhythmical and poetic about the use of the repetitive phrase. The responses show that there are so many possibilities In a world where anything's possible.
The colourful, detailed illustrations in this visual narrative, makes the text sing. Will you make a home? shows a bird or possum box being remounted on a tree by a group of children and Will you make something for today? involves three children planting a tree which tomorrow will provide shelter and a home for animals.
A thoughtful beautiful book, for children young and old, teeming with possibilities. The simple text will engage the reader to the end, whilst the illustrations have so much detail to discover.