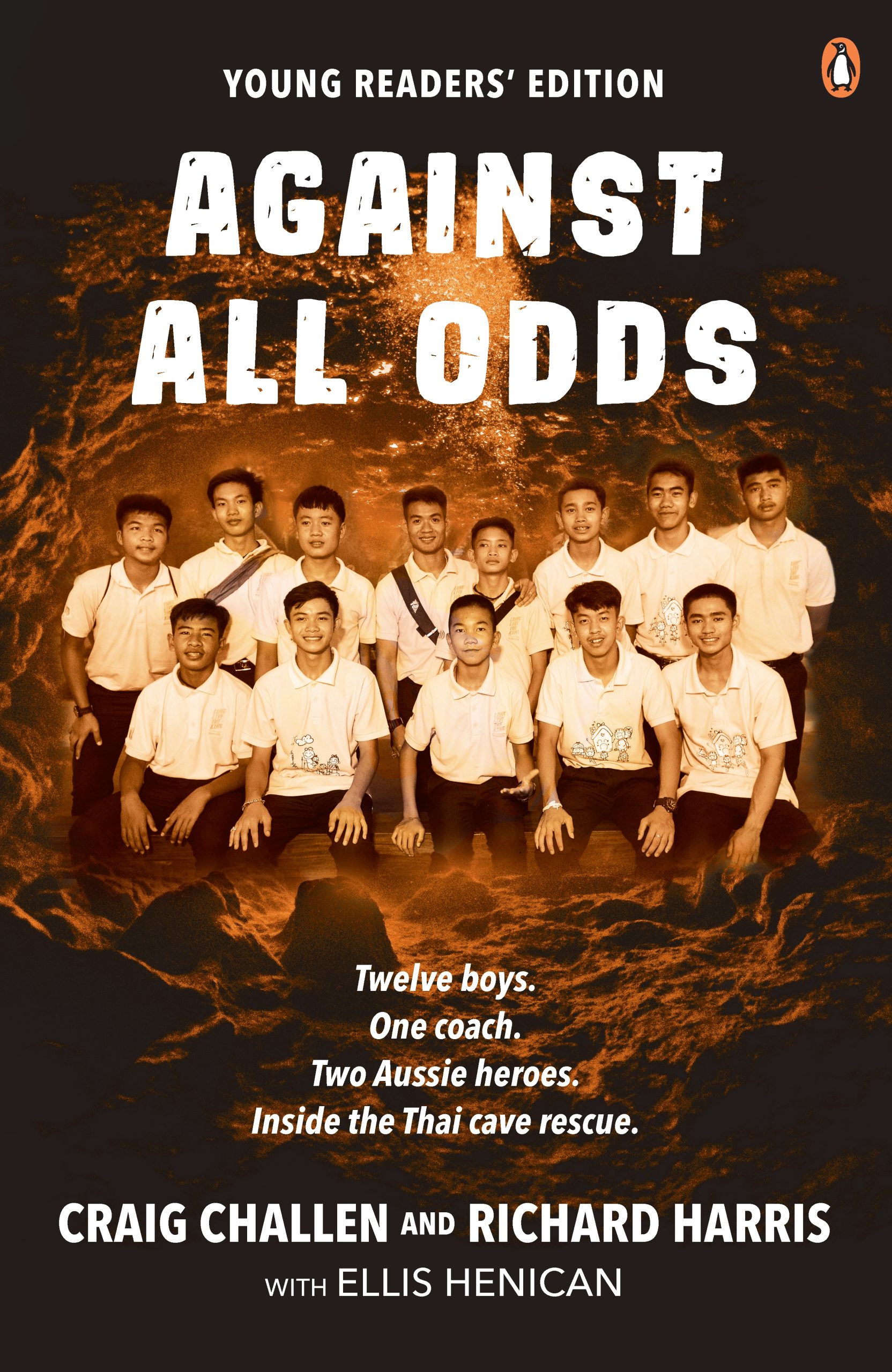 Against All Odds: Young Reader's Edition
By Craig Challen and Richard Harris, with Ellis Henican

 
Reviewed by Zewlan Moor
Craig Challen and Richard Harris are the Australian cave divers who helped rescue the 12 members of the Wild Boars soccer team and their coach, from a cave system in Tham Luang on the far northern border of Thailand in 2018.
This book is a condensed version of their memoir, which has been made into a film, Netflix series and National Geographic documentary. It is written in an approachable, conversational style that will appeal to readers in upper primary and secondary school.
The book starts with brief diversions into their childhoods and backgrounds – Harry: camping and fishing-turned anaesthetist; Craig, country kid-turned-veterinarian. These provide a welcome context for the particular interests and talents that led them into being the right people for the job, and are in no way self-indulgent.
Indeed, the alternating first-person narratives demonstrate humble men, who speak it as they see it. So it comes out that the international group of elite cave divers is a small group, and they all know each other. From Challen and Harris's descriptions, you get the feeling that there are some big personalities in the group, but that false self-aggrandisement amongst the members of the group would not be accepted.
Instead, the individuals are people of planning and action. And they regularly support each other and have each other's backs. One example of this is when Harris is asked by the Australian Government to travel to Thailand to participate in the rescue, but his co-diver, Challen is refused permission due to administrative red tape. Harris refuses to go without his right-hand man.
This theme of individual pursuit, leadership and striving for excellence is highlighted early in the book, when both Harris and Challen note they weren't sporty kids who played team sports. But they developed resilience through experiencing the outdoors, and then learned the importance of teamwork through pursuing their individualist sport of cave diving. This interplay between self-reliance, guiding oneself through tight passages in tunnels, and cooperation, working as a tag team to transport the Thai children, is what leads the success of the rescue operation.
It is fascinating to read the internal thoughts and doubts that plagued the men, as they proceeded with a rescue technique that had previously never been done before. There is just the right amount of detail about sedation and anaesthetic to interest young readers, and hopefully inspire them to persist in their studies of Chemistry and Biology, so that one day they might be prepared!
Most of all, the heroes of this story are truly shown to be the boys themselves, and their coach, a 25 year old man who looked after them and helped keep them calm. The parents' response and notes to the coach also demonstrate that positivity and resilience that is testament to the modes of behaviour and relationships valued in Thai culture.
Despite the drab cover, this is an exciting book that will appeal to young fans (particularly around the age of the boys) of true stories and adventure. Eight full pages of colour photographs of the men and boys show details of the inner workings of the rescue planning meetings, as well as scenes from the caves. There is a helpful world map showing all the countries involved in the rescue effort, as well as a map of the cave system. A welcome addition would have been a cross-sectional diagram showing the topographical features of the cave system, including heights of the narrowness of various chambers. There is a book, All Thirteen: The Incredible Cave Rescue of the Thai Boys' Soccer Team by Christina Soontornvat (2020: Walker Books Australia), that has a diagram of this. It would be a good companion read for this book, especially in a unit on non-fiction genres, for example, comparing memoir with traditional non-fiction.