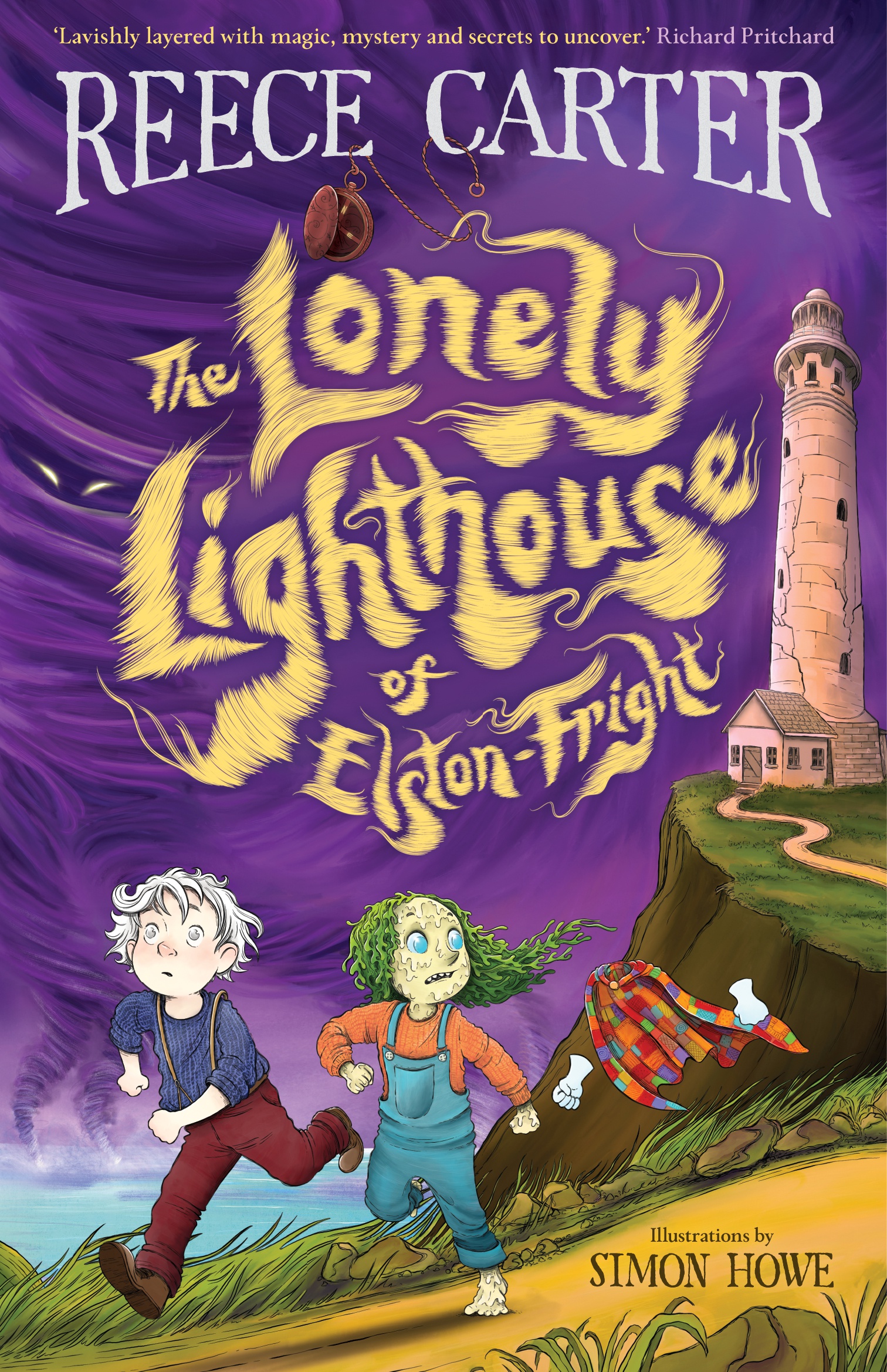 The Lonely Lighthouse of Elston-Fright
By Reece Carter
Reviewed by Helen Gearing
Nutritionist-turned-children's-author Reece Carter burst onto the Australian kidlit scene in 2022 with his debut novel, A Girl Called Corpse, also reviewed in StoryLinks, which snaffled a bunch of award shortlistings, including Australian Book Industry Association's Book of Year for Younger Children.
With this success  the next in series, The Lonely Lighthouse of Elston-Fright, has a lot to live up to – but a killer plot (literally, the stakes are high!), gorgeous characters, and heartwarming friendships make it equally unputdownable.
When their beloved friend Simon, a magically-enlarged spider, is kidnapped by wind monsters or Poltergusts, a trio of unlikely children must decipher historical clues and sort fact from fiction in a desperate race against time.
The trio – a bristly ghost called Corpse, an emotionally intelligent ghost called Girl, and a boy who lives in a lighthouse – must also face the consequences of actions set in motion years earlier by previous generations, and decide which path to follow into a future of their own making.
I usually avoid spooky stories like the plague but A Girl Called Corpse's exquisite cover (kudos to designer Kristy Lund-White and illustrator Simon Howe) bewitched me and I haven't regretted taking a chance on it, or its sequel. For readers who are averse to both gore and being traumatised, rest assured, this series is all heart, adventure, and fantasy. 
The Lonely Lighthouse of Elston-Fright will be enjoyed by readers eight and older who loved Nevermoore, The Girl Who Drank the Moon, and the strong friendships in The Sugarcrane Kids and the Red-bottomed Boat.
Excellent teaching notes are available on the website.