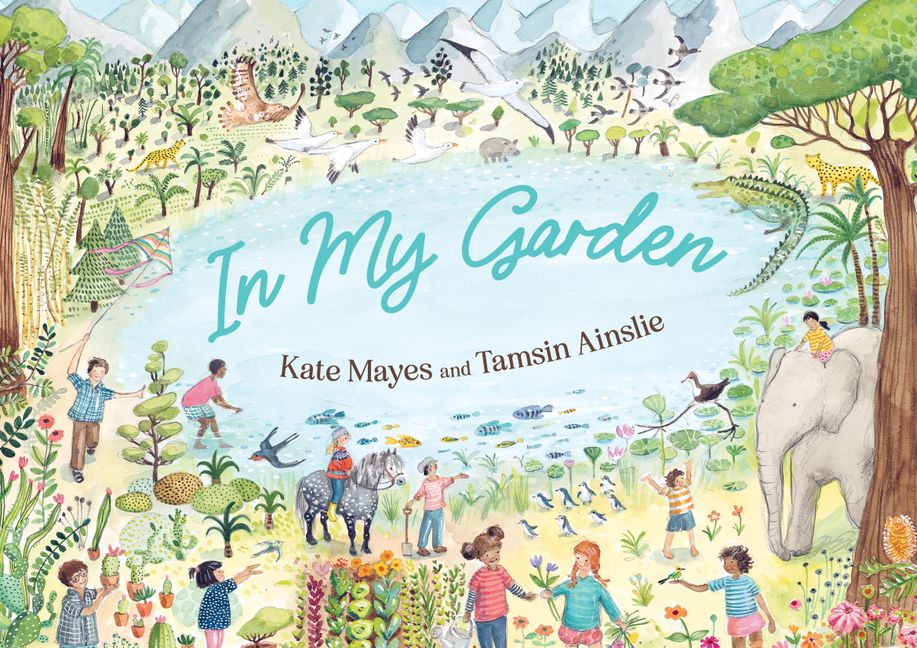 In My Garden
By Kate Mayes & Tamsin Ainslie
Reviewed by Mia Macrossan
Kate Mayes has written quite a few picture books including Daddy Cuddle and Mummy Cuddle, and my favourites The Bum Book, The Christmas Bum Book and The Easter Bum Book, the last two both reviewed in StoryLinks, and more. Tamsin Ainslie has illustrated more than fifty books, many CBCA Notable titles and also Can We Lick the Spoon Now? which won the Speech Pathology Australia Book of the Year Award for Young Children in 2011.
Here these two talented creators have teamed up to give readers a glimpse of gardens around the world, but not just a garden. The text and illustrations  carefully create scenes that reflect aspects of the life lived by each child, giving the reader a glimpse of the culture and ecology of each place.
Gardens  visited are  in Japan, America, Malawi, Iceland, New Zealand, Syria, Laos, Canada, Italy, Brazil and finally a hundred kilometres from anywhere we see Olivia's garden in Australia. She walks down a long bush track to the billabong full of brolgas, frogs and crocodiles. 'She is imagining big things here.'
Each child is extended by their garden and experiences something extra: Aiko is building something; Kawaii feels nurtured, Ari is protecting something important; Violeta is making something out of nothing, and so on.
The illustrations created with pencil, watercolour and gouache, perfectly complement the gentle contemplative text with soft colours, lots of detail to explore and a great variety of vistas. Apart from generating a love of and interest in gardening children will learn a lot from a careful reading of this book which has so much to offer, starting with the endpapers, the front a mosaic of flora and some insects, the back showing larger animals amongst the plants.
A book that all ages will enjoy.