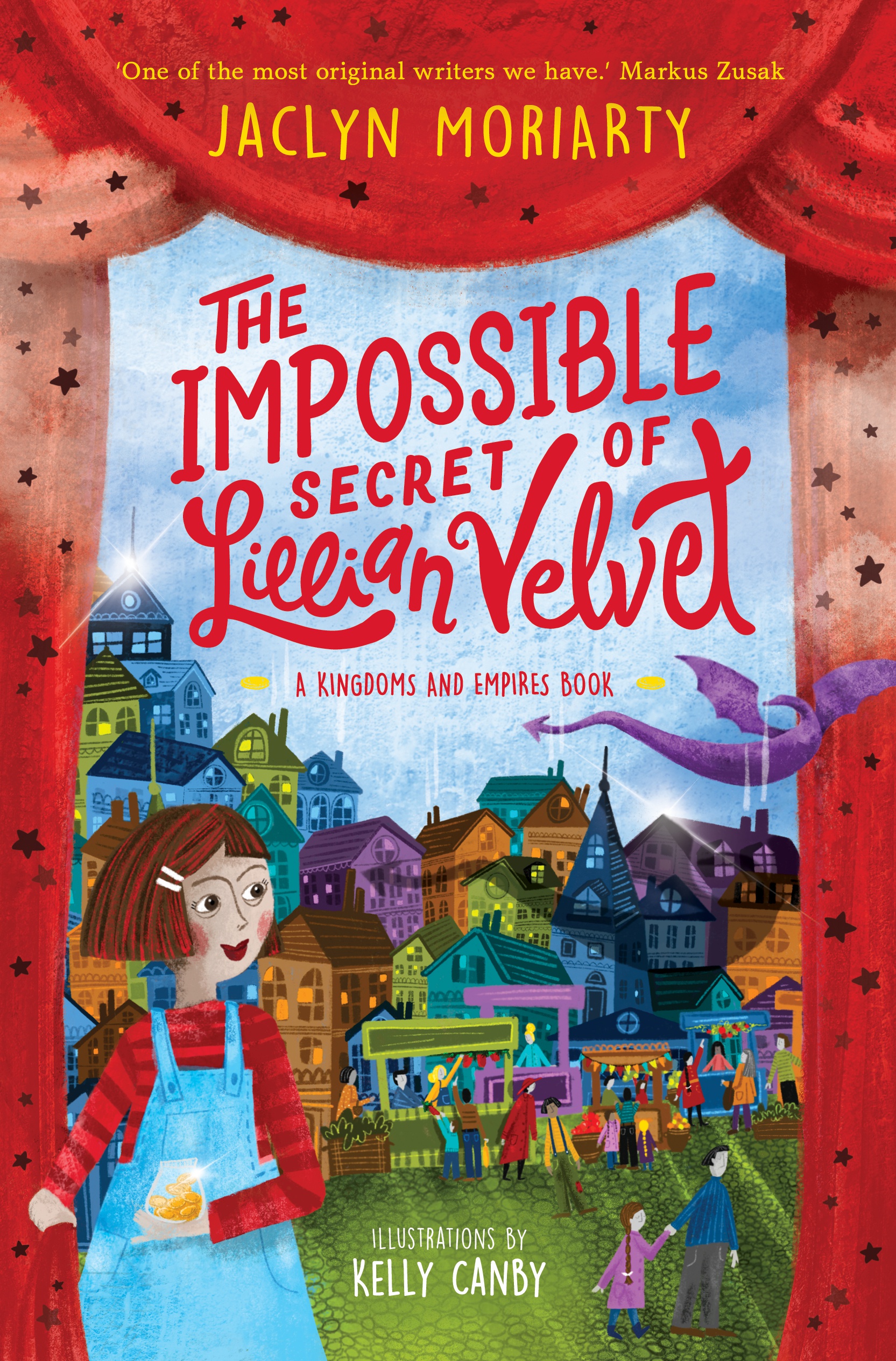 The Impossible Secret of Lillian Velvet
A Kingdoms and Empires Book
By Jaclyn Moriarty
Illustrated by Kelly Canby
Reviewed by Mia Macrossan
Jaclyn Moriarty is the award winning author of novels for children, young adults and sometimes slightly older adults, including  the Kingdoms and Empires series starting with The Extremely Inconvenient Adventures of Bronte Mettlestone, The Slightly Alarming Tale of the Whispering Wars, The Stolen Prince of Cloudburst, The

Astonishing Chronicles of Oscar from Elsewhere

, and now, The Impossible Secret of Lillian Velvet. another wildly imaginative, complex, engrossing story.
Lilian Velvet lives a very lonely life with her cold and remote Grandmother, until her 10th birthday when a present of magical gold coins whisks Lilian away to many different times and places, all connected, if only she could work it out. On her first time slip she meets a small boy in a circus about to be crushed to death. All her subsequent travels in the kingdoms and empires, in different times and places are attempts to find a way to save him.
That's because she is a strong and loving person despite her grim upbringing. Jaclyn describes Lillian as 'a child who doesn't realise that she deserves to be loved, or how much she is suffering from the coldness of her grandmother. But, like many people who've had a difficult upbringing, she still has love and strength within her.' (Teacher's Notes).
While it isn't necessary to have read any of the other books in the series, it does add to the fun when you come across characters you already know from previous books, especially since Lilian has no idea what she is dealing with most of the time.  She gradually becomes  enmeshed in a web of dangerous magic closing tighter and tighter around her until the wonderful impossible secret is revealed.
There is plenty of mystery, action and suspense threaded through with delicious humour. It's a complex read, you can't gallop through this or you will lose the thread, but that is always the case with time travel.
The Impossible Secret of Lilian Velvet is a welcome addition to the Kingdoms and Empires series, which just gets better and better.
Excellent Teacher Notes available on the publisher's website.