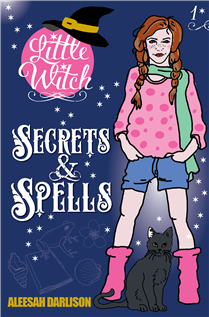 Little Witch #1 Secrets and Spells
by Aleesah Darlison
Big Sky Publishing 2017 176 pages Paperback $14.99 ISBN: 9781925520101
Reviewed by Charlotte Barkla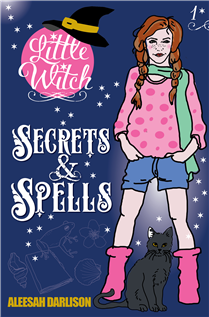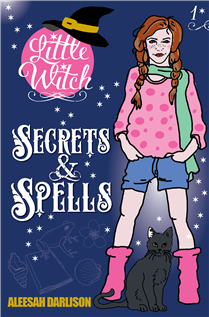 Aleesah Darlison is an award-winning Queensland author of picture books, chapter books and junior fiction novels. This is the first book in the "Little Witch" series, published by Big Sky Publishing in 2017.
Twelve-year-old Courtney has been dragged to the small town of Mixton Bay for her summer holidays. Helping her parents prepare her late, estranged grandmother's estate for sale is not exactly her idea of a fun holiday. Until she makes a discovery in the attic, which adds some magic to the trip.
Courtney  is prepared for a dull, boring summer break but things take an interesting turn when she discovers a book of spells in the attic.  When her Dad starts acting mysteriously, refusing to talk about his mother and avoiding his childhood friends, Courtney starts to learn there was more to her grandmother than she realised. Assisted by her new friend and potential future love-interest, Justice the tanned surfer, Courtney delves into her grandmother's mystical past, and makes some magical discoveries of her own.
Courtney is a relatable protagonist, strong-willed and bubbly, with a convincing amount of preteen angst to make her believable. It is a suspenseful read, one which  will intrigue and satisfy the imagination of its intended middle-grade audience. It has a good balance of dialogue and description, resulting in a well-paced story.
Reading this book brought back fond memories of watching "Sabrina the Teenage Witch" on television as a child, and I believe it similarly succeeds in finding the right balance of realism and fantasy. Whilst this book was a departure from my usual middle-grade penchant for Gleitzman-esque humour, I found it to be an engaging and enjoyable read. I suspect tweenagers will agree.