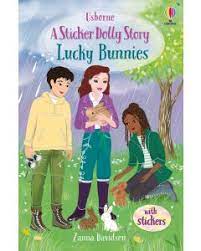 Lucky Bunnies
By Zanna Davidson
Reviewed by Sarah Custance

UK author Zanna Davidson has written many books for young readers including the popular Fairy Unicorns series as well as Billy and the Mini Monsters series. She has also written a few books for the Usborne publisher series A Sticker Dolly Story which includes this book, Lucky Bunnies.
In this book we follow the Animal Rescue team (comprised of Amelia, Jack, and Zoe) as they are sent on an important mission to rescue a number of stranded bunnies. Flooding in the Wildflower Meadows has trapped the group of bunnies on a small hill that is quickly being submerged further into the rising floodwater.
The team need to quickly reach the bunnies, capture them, and transport them to safe ground before it's too late but when they reach the little hill they soon realise that not all of the bunnies will be so easy to capture… or even to find! Will the Animal Rescue team be able to save all of the bunnies before the floodwaters put all of them in danger?
Usborne publishers have always been a safe bet for very early readers and I believe that this new series will be just the thing for young animal lovers. With touches of magic and even a page of stickers to put onto the main characters, young readers will find this book a fun and uncomplicated read with cute illustrations and an easy to follow story. The range of characters is wonderfully diverse and inclusive, ensuring that every reader will be able to see themselves represented on the page. This series is perfect for young fans of the Rainbow Magic book series by Daisy Meadows.